Recently Midway High's orchestra students won the Mark of Excellence award. This award is a competition where 229 ensembles entered in this competition.
The students were excited to win.
"It feels really good to receive national attention like this," Robert Mathis, a junior, said.  "Getting to play great music at a high level is its own reward, but it is always nice to get this kind of affirmation from the outside."
Another student agreed.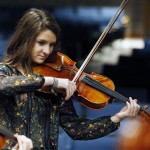 "Even though we were in competition with schools three times the size of Midway, we have a very special community whose incredible support of the arts has made achievements like this possible," Hannah Burnett, a senior, said. "I feel very honored that we were chosen as one of the ensembles to receive this award."
The director of the orchestra is Beau Benson.
Article by Caroline Thompson, MHS Student, Independent Study in Journalism