Midway High School Chemistry Teacher Krystle Moos has been named a state finalist in the 2023 Presidential Awards for Excellence in Mathematics and Science Teaching (PAEMST). This prestigious award is the highest recognition a K-12 mathematics or science teacher can receive for outstanding teaching in the United States, and it is an honor that reflects Mrs. Moos' exceptional dedication and skills as a science educator.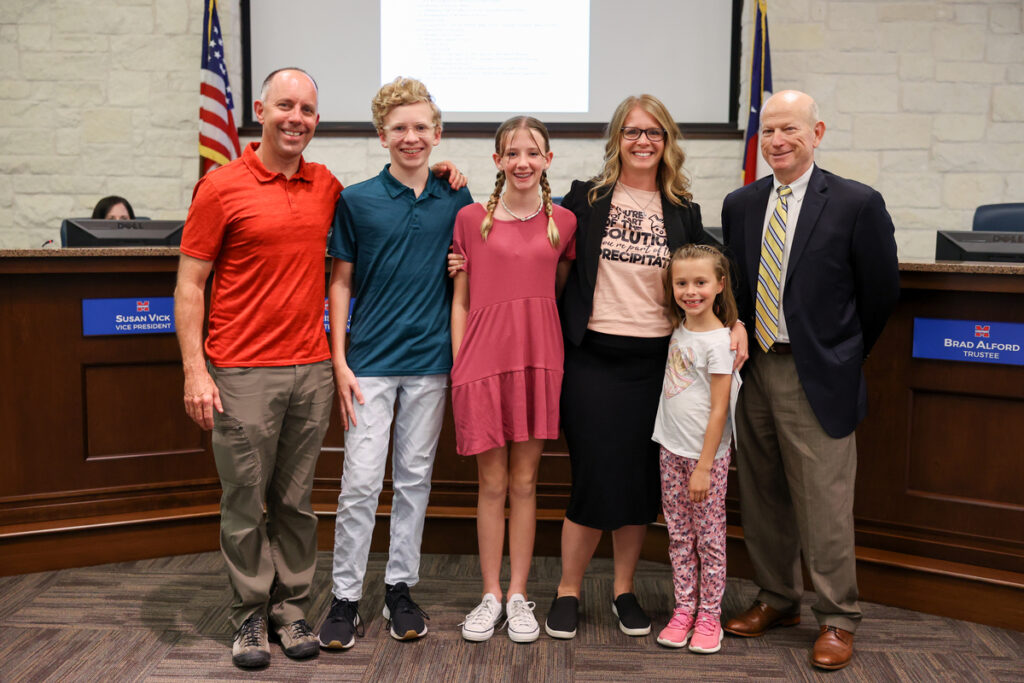 Midway High School Chemistry Teacher and PAEMST state finalist Krystle Moos (fourth from left) stands with her family and Midway ISD School Board President Pete Rusek (far right) while being honored at the May Board of Trustees meeting.
As a finalist, Mrs. Moos is representing Midway ISD and the state of Texas at the national level after completing a rigorous application process that required her to exhibit both deep content knowledge of the subjects she teaches and the ability to motivate and enable students to be successful.
PAEMST was established by Congress in 1983 to honor the dedication, hard work, and important role that America's teachers play in supporting learners who will become future professionals in the fields of science, technology, engineering, and mathematics (STEM). Up to 108 exemplary teachers are recognized by the President each year after a national selection committee reviews state finalist applications, selecting one awardee in each content area for every state.
If selected, Moos will have the opportunity to take part in a weeklong series of networking and professional development activities in Washington, D.C., and receive $10,000 from the National Science Foundation.
In addition to her recognition as a PAEMST state finalist, Mrs. Moos is also a National Board Certified Teacher. Along with Mrs. Moos, each of the teachers selected as state finalists have demonstrated the positive impact of excellent teachers on student achievement and serve as inspiration to their communities as well as leaders in the improvement of STEM education.