In the 30th year of Special Olympics at Midway ISD, the high school UIL Unified Track and Field team demonstrated the program's profound impact, winning first place at the regional meet and advancing to compete at the state level.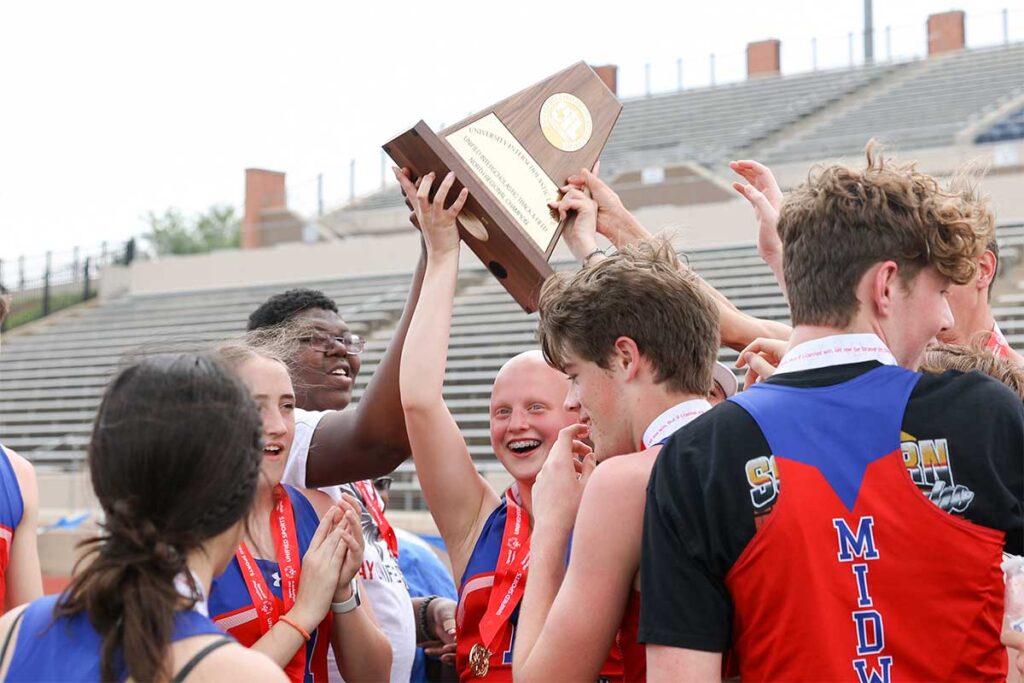 "I feel like it's needless for me to say how proud I am of this team," Midway Unified Track and Field Head Coach Jordyn Baugh said. "They put in the hours, the work, the heart, the sweat—all of it. "
Unified Sports is a branch under Special Olympics that is designed to be more competitive in nature. Unified teams include special education athletes and general education partners training and competing together in the same events, and athletes are held to the exact same standards and rules as athletes in traditional UIL Track and Field meets.
"I run the practices in the same way that my coaches did when I was in high school sports," Baugh said. "I have a whistle, and I use it. If you are not giving me 100%, you run it again. We practice handoff timings until it's perfect."
Midway's state-qualifying athletes and their partners competed in the 100-meter dash, 400 dash, 4×100 relay, long jump, and shot put. The team practices during the school day in P.E. class as well as after school two or three days a week.
"They wanted to win and they knew they needed to improve to do so," Baugh said. "This is what got us that picture-perfect moment at regionals when they announced us as regional champions, beating the defending state champions for the first time ever."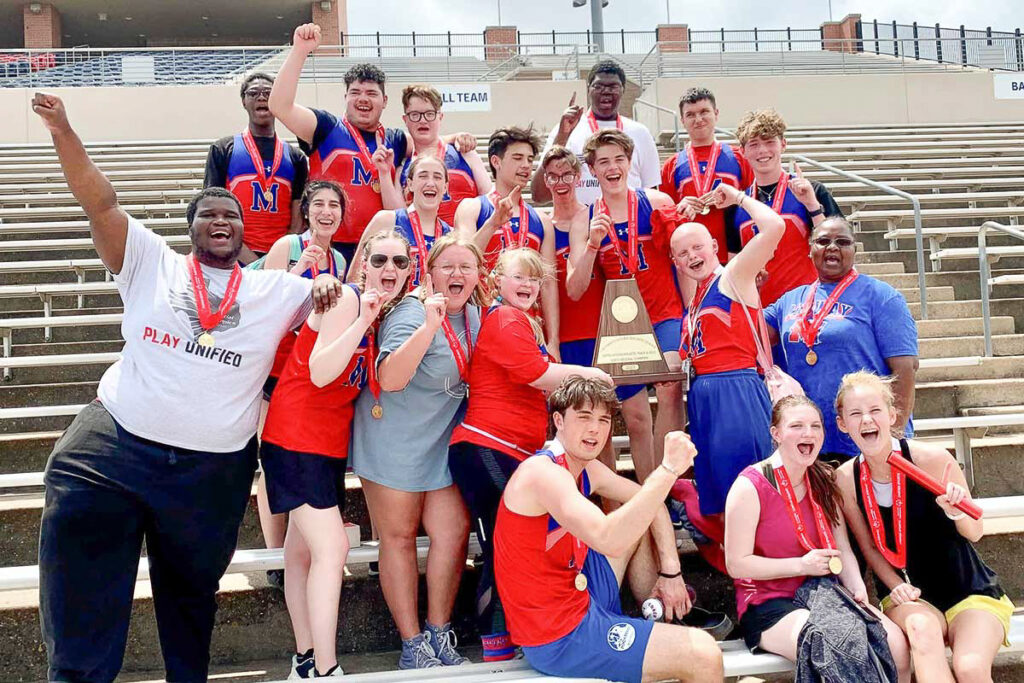 However, Midway's Unified Track and Field team is known for more than just their success. The team's exceptional ability to celebrate and uplift teammates and competitors alike is what sets them apart.
"I truly have never seen sportsmanship of this magnitude in my life," Baugh said. "This is where my team stands out from the rest. No matter what the outcome was, everyone was positive, encouraging, and kept pushing forward."
Baugh said her team not only cared about each other, but they also showed care for the other teams they were competing against.
"They shook their hands before and after the meets, cheered them on to the finish line, told them good job, and had conversations with them like they were the best of friends," Baugh said. "It was so impressive that the executive director of Unified Sports pulled me aside after the regional meet and told me how incredible it was to sit back and watch my team 'do what they do.'"
With a total of 40 UIL Unified Track and Field teams statewide, Midway advanced through area and regional meets to state where they competed against the top 16 teams in Texas. Although the competition season is brief, athletes and their partners forged an instant bond.
"The partners and athletes created the most incredible relationships in such a short amount of time," Baugh said. "How the partners interact with the athletes is something that can't be coached, and I am fortunate to have partners that are patient, compassionate, caring, and true friends."
Athletes:
Philip Auchard
Jacob Brown
Cole Copas
Mason Daniel
Addyson Galow
DaVonte Portis
Madilyn Potts
Nikolai Seibol
Partners:
Caleb Butler
Reagan Corley
Bennett DeLozier
Tyler DeLozier
Madelyn McRae
Alayne Serrato
Kathryn Sparks
Rylee Tilsley
Working diligently behind the scenes to make this year's success possible was student manager DQ Portis, buddies Brynn Simcik and Kathryn Willis, head coach Jordyn Baugh, assistant coach Julie Potts, coaches Veronica Phifer and Rene Tilsley, and chaperone Roger Slayton.