Midway High School Robotics made history at this year's UIL 6A State Robotics Tournament where they took home first place and won the program's first-ever state title.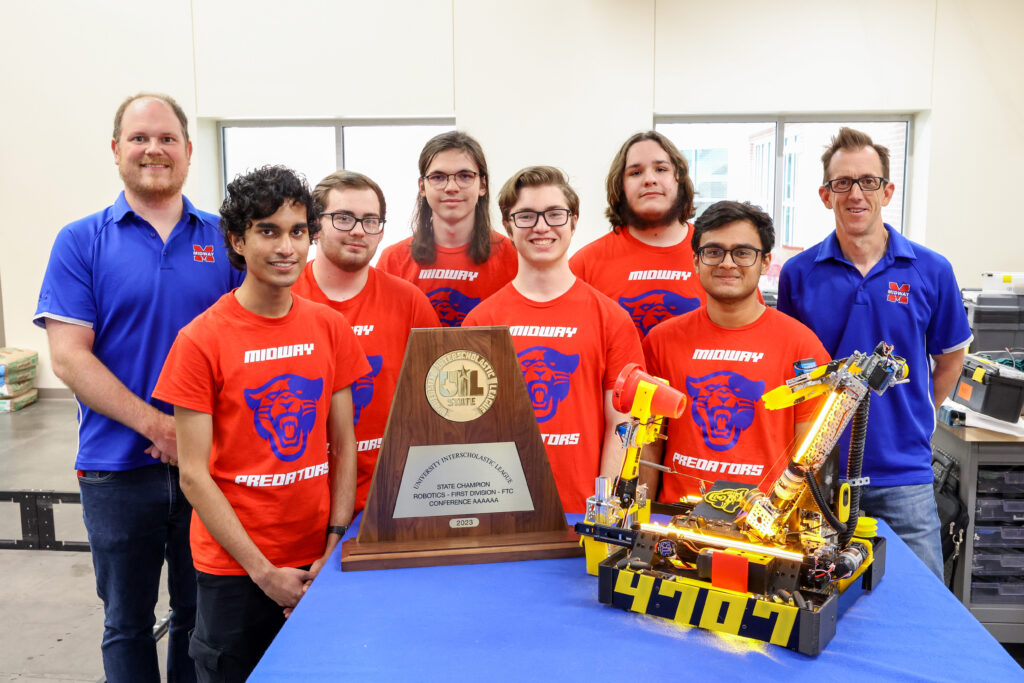 L to R: Team sponsor Ben Kosarek, Noah Thamban, Andrew Morelan, Hogan Nance, Josh Oslund, David Flores, Jai Patel, and team sponsor Brady Gibson.
Midway Robotics Team 4707, the Midway Predators, composed of members Noah Thamban, Jai Patel, Andrew Morelan, Josh Oslund, Hogan Nance, and David Flores, secured their spot in the state tournament—held on Friday, March 24, at the Bell County Expo Center in Belton—after winning the Waco League Tournament in January and excelling in the Central Regional Tournament in February.
After almost three years working together, Midway's robotics team was determined to come out on top and started off strong in the first portion of the state tournament. They won all six qualification matches used to seed teams for finals and set the high score for the tournament twice. They were also the only team out of 24 participating teams to finish the qualifying matches 6-0 and were the No. 1 seed going into the elimination matches.
The team's success continued as they went on to win both semifinal elimination matches and move into the finals bracket where they won the next two matches, claiming the state title and setting a new Texas record for most points scored in a single match.
"I'm very proud of these young men as they truly represent the best Midway has to offer," Midway High School robotics teacher and team sponsor Brady Gibson said.
Midway Robotics Team 4707 is led by President Noah Thamban, who organizes all of the team's service events, manages key tasks and projects, and helps implement robot programming and testing. Along with Thamban, each of the team's six members contributes a unique set of skills.
"Josh Oslund is the lead builder for the team and was instrumental designing and building the third version of Midway's robot that was used after the Waco League Tournament," Gibson said. "He also created 3D computer-aided design (CAD) models of the robot prior to building to test the feasibility of designs."
Hogan Nance played a crucial role as driver coach and end-game strategist for the team. In the elimination matches, the top four teams select partners to play with in a bracket-style elimination. As the top seed, Midway had the first pick of alliance partners, and Nance was key in helping the team make the best choice. In addition to documenting scores, he researched team alliances and helped 4707 pick teams that complemented their robot's abilities.
In addition to selecting the right partners, each match includes 30 seconds of programmed autonomous function in which the robot completes programmed tasks without any human control.
"Jai Patel is the lead programmer and was responsible for programming the autonomous portion of the robot," Gibson said, "which was a key component of the team's success as points are weighted heavily on this aspect of the game, rewarding teams that are willing to take the time grinding through hours of testing."
Autonomous function is followed by a two-minute driver-controlled period in which opposing alliances compete against each other to score as many points as possible.
"Andrew Morelan was the team's primary driver," Gibson said, "and much of this year's success was due to his calm under pressure and extensive practice sessions."
Colton Munksgard was the audio/video specialist for the team and David Flores was responsible for team pit organization and equipment inventory, making sure the team had everything they needed to be successful as they traveled to tournaments. However, it's not just about winning for Midway's state championship robotics team, whose projects are fueled by genuine passion.
"In addition to the competition side of the robotics season, each of these young men has put in countless hours around Waco presenting their robots and promoting STEM to elementary schools and other civic events in the community," Midway High School teacher and robotics team sponsor Ben Kosarek said.
Midway Robotics would like to extend special thanks to the Nance, Thamban, and Oslund families for their support of the team this year.