Competing in sports as part of a team brings people together, and this is certainly true for Midway ISD's Unified Track & Field team.
Midway competed in the inaugural UIL Unified Track & Field State Championship on Thursday, April 29 in San Antonio, earning third place out of 11 teams from across the state. Unified is a branch under Special Olympics, and Unified teams include special education athletes and general education partners training and competing together in the same events.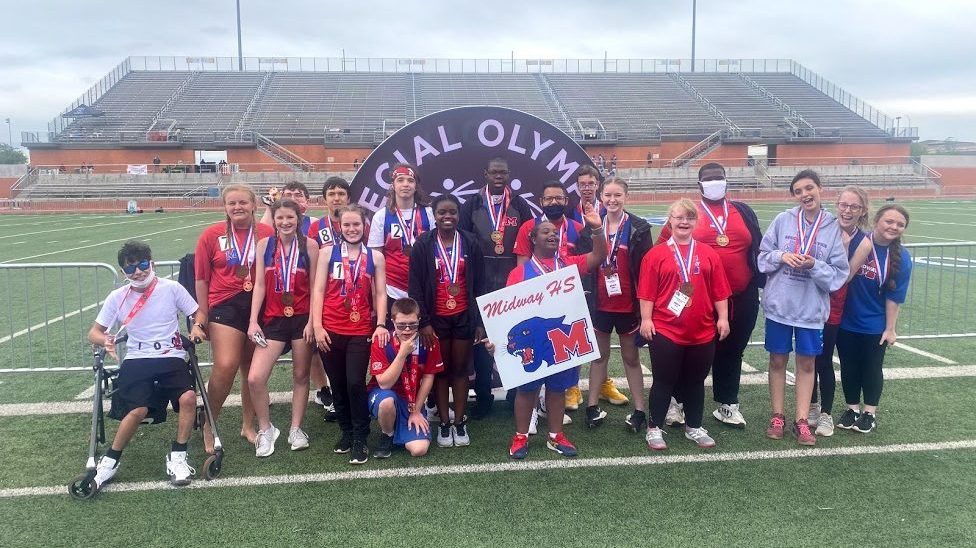 At the Unified State Meet, the Midway athletes and their partners participated in the 100m dash, 400m dash, 4x100m relay, long jump and shot put. The athletes were held to the exact same standards and rules as athletes in the traditional UIL Track & Field State Meet.
"Our kids got out there and just ran with it… it was just so cool to watch," Midway ISD Special Olympics Coordinator Julie Biezenski said. "They got better and better every week, and then most of them had personal bests at the state track meet."
Midway's Unified team placed higher at state than teams who finished ahead of them at both the area and regional track & field meets.
"It's just such a testament to our kids," Biezenski said. "Those kids rose to the occasion… They ran and they jumped in the middle of rain. It didn't even phase them."
We applaud the following students and coaches for their achievement and their dedication to Midway Unified and Midway Special Olympics!
Athletes:
Derek Kingston
Angelo Garcia
Philip Auchard
Chandler Hooper
Nikolai Seibel
Diana Cosey
Shanelle Cordero
Madi Potts
Jacob Brown
Partners:
Shaidenn Kosier
Jordyn Reeves
Akaela Ellis
Kathryn Willis
Kathryn Sparks
Lucy Webb
Emma Spivey
Caden Clark
Student Managers:
Thomas Contreras
Krissa Scott
Student Coach:
Dae'Quan Portis
Coaches:
Julie Biezenski
Elena Leon
Kristen McKerall
Jordyn Baugh
Unified programs were developed to allow student-athletes to learn new sports skills, experience meaningful inclusion in a valued team role, and form friendships with peers through positive social interactions between teammates.
Biezenski said programs like Unified show special education students that there are communities and groups of people out there who want to treat them exactly the same as any person walking down the street.
"If you look at our kids, that's what's so inspiring to me," Biezenski said. "If I walk up to the shot put rink… they're all standing together. They're all talking. They're all laughing."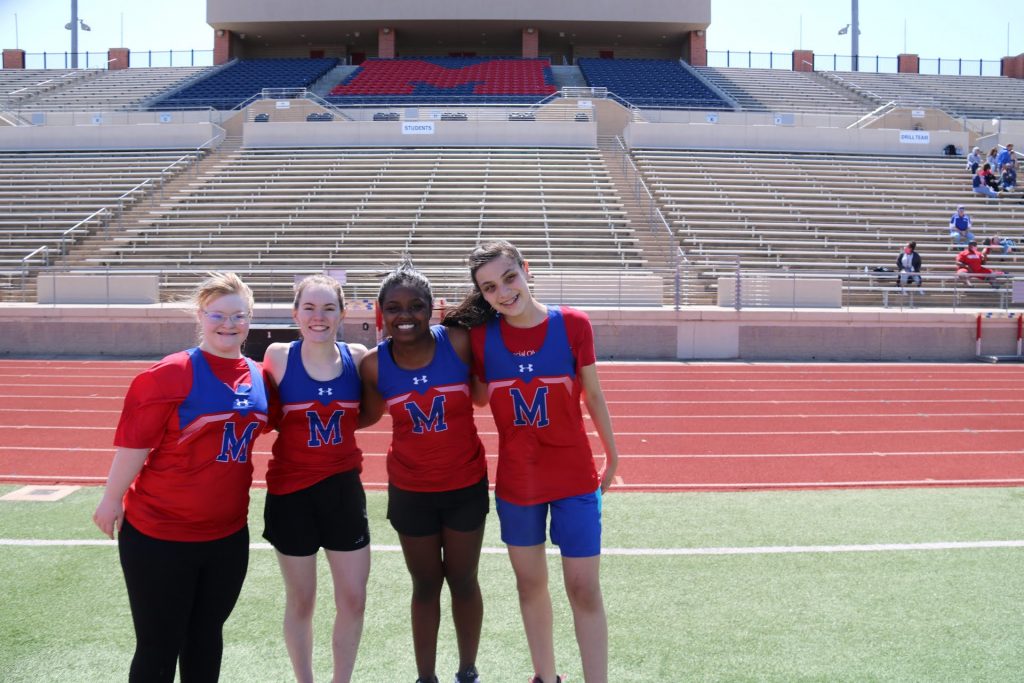 Although the athletes compete individually, they are scored together with their partners and only team awards are given to encourage a truly unified partnership. There is also a leadership component for student managers, who assist the coaches, and for partners, who lead the athletes by making sure they're in the right place and ready to go.
Student Coaches are typically part of Midway's MPOWER (18+ Program) and take on a job-specific role. MPOWER focuses on the transition to adulthood for special education students.
"They're learning how to go from being an athlete to showing kids and coaching kids on the specifics of a sport," Biezenski said. "They sign paperwork, and there's a video they have to watch and a training they have to go through."
Both Midway Middle School and Midway High School are also recognized as Special Olympics Unified Champion Schools, which is a program focused on promoting social inclusion through implementing inclusive sports, youth leadership opportunities, and whole-school engagement.
"Our goal within the next year and a half to two years is to have every school in the district be a Unified School," Biezenski said. "It's not just one little sporadic thing here or there… it's a full-school inclusion kind of thing."
Over 3,000 athletes and partners are currently involved in Texas Unified programs in partnerships with schools and other community organizations across the state, creating tangible opportunities for athletes to be more involved and included in their communities.
"I think that our world's moving that way," Biezenski said. "I think awareness of people with disabilities is on the rise."
Biezenski also said raising awareness is important because she has seen how hearing about programs like Unified and seeing their impact makes students, teachers, parents, administrators and community members want to be involved.
"And that's what I love," Biezenski said. "This district takes you in. It grabs a hold of you and supports you in whatever way they can."
To learn more about Special Olympics Unified Sports in Texas, click here. To learn more about the program's presence across the nation, click here. You can also visit Midway's Special Olympics Facebook Page to connect with our program and learn more about Special Olympics Texas at Midway ISD.