By Landry Leatherwood, Baylor University Intern
Paws for Peace is a Midway ISD Education Foundation Grants for Great Ideas winner that uses animatronic pets to help soothe, comfort and interact with students at Speegleville Elementary. This particular grant, applied for by Speegleville's librarian, Christe Hancock, is now revolutionizing the interactions, speech and comfort level of students with different needs and in different areas around the school.
Hancock originally applied for this grant to help students who were having difficulties with self-discipline, but soon came to find out that the animatronic pets had greater capabilities for transformation far beyond her imagination.
"It way exceeded what I had expected," Hancock said. "When I put them out, I thought that we were going to be using them for self-discipline problems, to help kids self-regulate and to calm themselves down, but so many other good things started happening."
Hancock said the animatronic pets began to help calm down kids with behavior problems, encourage students with speech disabilities to form words and engage more and even allow kids who were once closed-off become more comfortable and transparent.
"The kids react. They come in squabbling and immediately calm down when they see the pets…they can talk, they can verbalize what's going on with them," Hancock said.
The original idea for this grant came to Hancock when she combined her research of the benefits that animatronic pets have with senior citizens, and the benefits on kid's behavior with live animals. Hancock explained that in comparison to live animals, the animatronic pets are battery-operated, don't require clean-up or food and are completely allergen-free for the children, making this the best solution.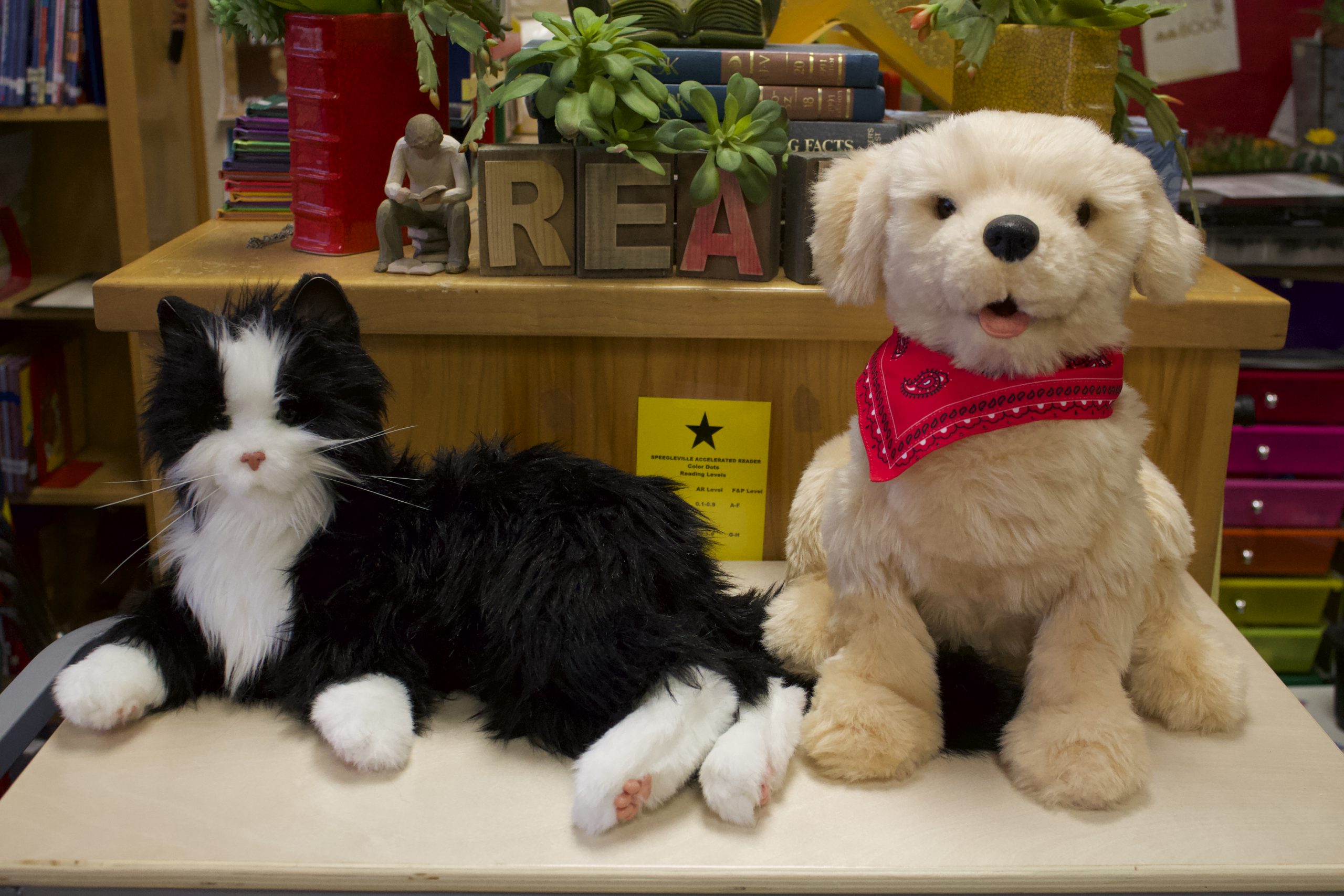 "It's great, it's a win-win," Hancock said. "You've got all the benefits, and none of the downside of having a live pet…and they're just so loveable."
David Jackson, Speegleville's counselor, has also seen first-hand the benefits of these animatronic pets. He claims that working with these animals has seemingly "revolutionized" his career with the children he works with each day.
"Once Ms. Hancock brought the animated stuffed animals in, it really changed a lot of what I do," Jackson said. "It's just been incredible what a calming effect it has had on the children."
Hancock believes that the benefits of these pets have spread like a "wildfire" throughout the school and have the potential to extend far beyond Speegleville's walls. She is thankful to the Foundation for the ability to apply for and receive grants that have this much of a lasting effect on the children and community as these animatronic pets have.
"I can't say enough about the Foundation, it's a dream," she said. "You're going to make me cry, I'm tearing up because it's just so nice to be able to offer the kids stuff that they normally wouldn't get with the budget constraints."
This grant was provided by the Midway ISD Education Foundation. If you would like to know more about the Education Foundation, please visit their webpage at www.midwayisd.org/foundation.