Midway High School's Career and Technology Education (CTE) programs have racked up considerable accolades in the last year… and state leaders have noticed! Representative Doc Anderson visited Midway High School to congratulate Computer Science Teacher Susan Jones, who was named the National Project Lead the Way Outstanding Teacher in Computer Science. He emphasized the importance of Jones' students' cybersecurity accomplishments, and asked her to share information about computer science course trends.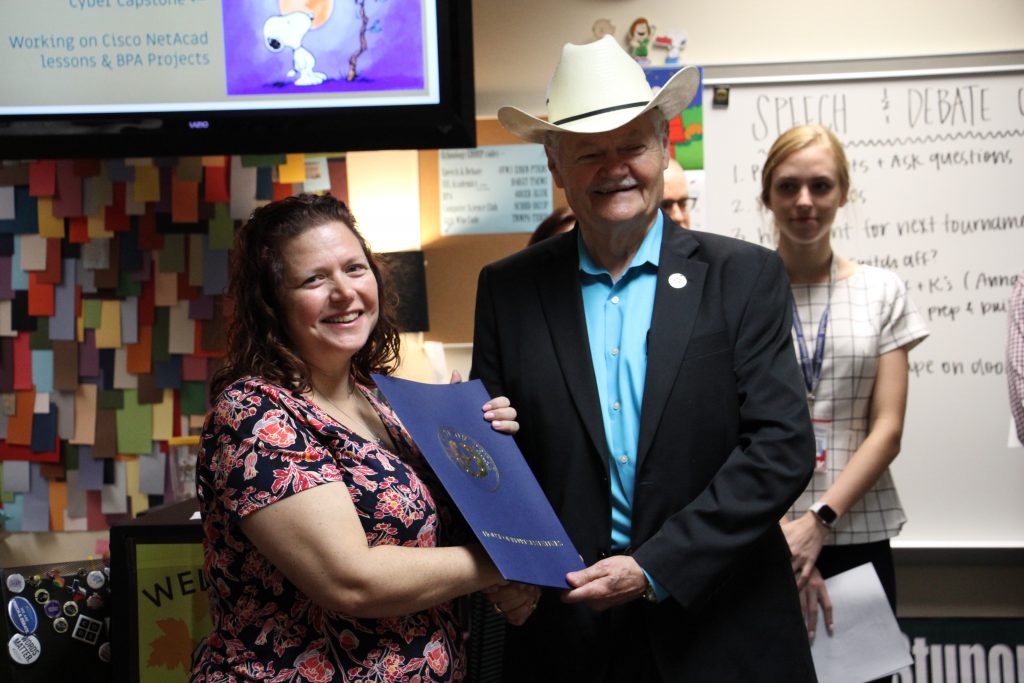 The Business Professionals of America program brought home multiple national champions including Jones' students, Richard Hutcheson, Jeremy Bellert, Kyle Tullis & Kyle Plaskett, the Virtual Software Team who won first in Game Design and Best in Show. Also from MHS' CTE department, Marshall Tompkins, Krista Gore and Dax Duncan won Virtual Multimedia and Promotion Team, Best in Show, and second in Best Video and Promotion. Taylor Mason was also the nation's best BPA graphic designer. An army of students also placed high in national and state BPA competitions.
Midway's FFA chapter is a state gold chapter, one of the largest in Texas, and fared well at state competition. Students placed top 10 in Vet Science, Tractor Tech, Food Science, and Farm Business Management, bringing home the state championship in Vet Science from a field of 500 teams. Anya Ocampos, Rachel Jones, Kyle Kowalski, and Claire King will compete at nationals later this month, October 2019. MISD is also pleased to celebrate our first ever state FFA officer, alum Calvin Morgan.
CTE programs like robotics and engineering, HOSA, and FCCLA all also compete at the state level regularly, also racking up some national achievements in recent years.
Interest in CTE programs continues to climb in business classes, broadcast/AV, and most recently in biomedical pathways. Med tech programs have offered opportunities for CNA licensing and nursing training, and forensics has been quite popular. In 2019-2020, the addition of biomedical course offerings enrolled 200 students with interests in pre-med.
With CTE interest peaking in younger grades, it is apparent that CTE and PLTW involvement will continue to grow. Midway Middle School offers pre-engineering and computer science classes. In addition, Mrs. Jones hosts a district-wide Girls Who Code Club for grades 6 and up.