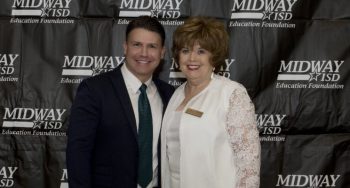 By Brian Townley, MHS Class of '88
Everyone can remember their first experience with leadership and the effect it had on their development. Think back and remember your very best teacher and your worst teacher. I can still remember their voices, their faces and their impact.
Third grade was quite a year for me. My teacher had decided early on that I was not going to be on her list of favorite students. I was so excited to start school that year because I was in class with my best friend at the time. She would always make me laugh, and we were great friends.
Just as much as my friend loved to make me laugh, my teacher loved to punish me. It was the recipe for a pretty miserable life for a boy my age. I spent more time in the hall instead of the classroom. This interfered with my learning, and I became very disengaged from the class. Aside from my parents, my teacher was my leader, and I can remember her well because she taught me more about rejection, fears and humiliation than anything else.
Luckily, my parents began to understand the problems I was experiencing and made a recommendation to the school that I be placed into another teacher's class. That was a pivotal moment as I began to learn the curriculum and thoroughly enjoy my third-grade year.
When I met my new teacher, Mrs. Gilchrest, she opened a whole new world for me. Her encouragement and cheerful disposition made me believe I was the smartest and most talented child to ever set foot in her room. I liked school because I believed in myself and wanted to learn. What's amazing is so did everyone else in her class.
Reflecting back on my best and worst teachers makes me realize it's not what leadership is, it's what leaders do. The seeds of regeneration in a person's core comprises the character of a leader. These ripple effects have positive or negative impacts on others. Our fingerprints never fade from the lives we've touched.
During the next 30 years, I had the opportunity to run into both teachers from my past, each of whom had very different responses that reflect their leadership styles. While my first teacher in third grade had a huge impact on me, she had no memory of me when I introduced myself. However, Glenda Gilchrest Strum not only knew who I was, she also told me that she had been keeping up with me through the years and was so proud of my accomplishments. She spent time telling me what a talented student I was and how much she enjoyed having me in her class.
One small change can have an enormous impact
This story proves my belief that true leader's change lives and inspires others to achieve their goals. I'm grateful to have had such leaders in my own life. It's also inspired me to be more like those I needed the most when I was younger.
Through my research and professional development work over the past two decades, it's also become clear to me that many of the traits I've admired in the mentors in my own life are the common threads of leadership. It's true that leaders are not born; rather they earn this respected title by hard work, dedication and compassion.
They generously bestow this vision to everyone they touch. They truly believe in the mantra that you always get back more than you give.
It's leaders like Glenda Strum who are so great, not because of their power, but because of their ability to empower others and their firm belief in helping others so they can have a better view of the world, as well. A leader who sees the world from the vantage point of others knows that when we are improving the lives of others we have found our true calling.
It's been a life lesson that is always in the forefront of my mind. When we inspire others to motivate themselves, then they will be great traveling companions on this successful journey.
And to me that is what an inspiring leader is: someone who takes pleasure in seeing the best qualities in another unleashed.