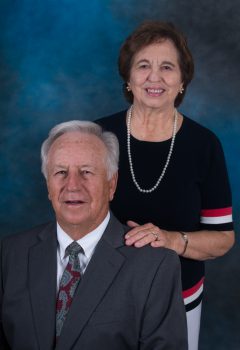 By Georgia Holland, MHS Independent Study in Journalism Student
Midway ISD was much different than it was 43 years ago. Sherilyn Lewis can tell you just how far Midway has come since then. First employed as a first grade teacher, Lewis served as a Midway employee from 1974 until her retirement in 2016. Lewis is a prime example of someone dedicated to her work and serving others.
Mrs. Lewis taught first grade for one year and then taught fifth grade for seven years after that. Then she served as a sixth grade teacher for 15 years. This, she said, was her favorite grade to teach. Lewis added that she enjoyed getting to teach multiple grade levels, and getting to know kids who had her for more than one year even better. Midway, she said, was an enjoyable place to work in all aspects: the students, faculty, parents, and PTA. Lewis said the sense of community she felt at Midway when she started is still present 43 years later.
Lewis was first inspired to teach after she, herself, had teachers who influenced her and her life. Following her work as a sixth grade teacher for 15 years, Lewis "officially retired." While most people don't continue their work after retirement, Lewis worked for 20 years as an aid on the Special Education bus. She enjoyed working after retirement because the kids "keep you young," she said. During all her years at Midway, Lewis said the students were always understanding and ready each day, and hopes they remember her as someone who enjoyed what she was doing – being around them and learning from them.
Lewis isn't the only one in her family to have worked for Midway. Her husband Jerry also worked at Midway for about the same amount of time. They have two sons who graduated from Midway and four grandchildren who attend currently. Lewis said she enjoys seeing old students at Midway games, and getting to visit with them and their families.
Very few people can say they've been as involved in a school district as Sherilyn Lewis can. After completing a lifetime of service, and betterment of our community day by day, Lewis deserves all the recognition in the world.
Mr. & Mrs. Lewis and other distinguished service honorees will be recognized on Sunday, October 22 at 2PM in the Midway Middle School Cafeteria. The event is free and open to the public. Those wishing to make honorariums to the Midway ISD Education in honor of one or more of these recipients may do so and write a tribute at https://edbacker.com/c/honor-our-distinguished-service-recipients.