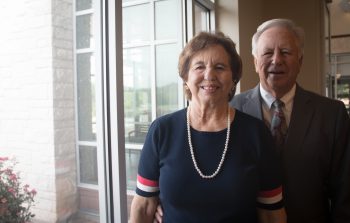 By Juliann Riggin, MHS Independent Study in Journalism Student
By Juliann Riggin, MHS Independent Study in Journalism Student
It's hard to attend Midway ISD without knowing who Jerry Lewis is. From serving as a principal for various elementary schools to being a bus driver and football game announcer, there's little that Lewis hasn't done. Starting in 1974, he was the principal of Midway Elementary, the only elementary school at the time. As Midway began to grow, Lewis moved up to be the principal of Midway Middle School, then to Hewitt Elementary, and finally to Spring Valley Elementary. At each school, Lewis was dedicated to learning all of his students' names, no matter how big the school. At one point he had more than 1,000 students at Hewitt and Woodway Elementary, yet was still committed to every single one. He was the first principal at Spring Valley Elementary and fondly remembers it as his favorite assignment. Lewis recalls building the first playground at Midway ISD there with the help of the PTA, saying that they built it in a single Saturday.
Lewis was also the Assistant Superintendent for Human Resources and Communications from 1993 to 1995, then served as a bus driver until 2016. Even as a bus driver, Lewis was still extremely dedicated. Every Friday, he sang the theme song to Spongebob Squarepants to the delight of his riders, and even wrote his own song for the rules of the bus. In 1974 he became the announcer for the Midway football games, and proudly did it until 2016. He bragged about never missing a single play in 42 years.
"It was wonderful," he said. "I enjoyed every assignment too much."
He loved all aspects of Midway ISD; everyone from the faculty and parents to the PTA made him feel welcome, he added. Although the district has grown significantly, Lewis said that the sense of community is still strong and that he is extremely grateful for all of the memories that Midway has given him.
"It has been a blessing for us being here at Midway, and we treasure the years," Lewis said of himself and his wife who is also receiving the award.
When he found out that he won the award, Lewis said that he was very humbled and honored. He was always the bus driver for the Midway ISD Education Foundation's Prize Posse ever since it was started in 2001 until 2016. He remembers it as a fun experience to get to assist in awarding the grants every year, and now it is his turn to visit the campuses to award grants.
Mr. & Mrs. Lewis and other distinguished service honorees will be recognized on Sunday, October 22 at 2PM in the Midway Middle School Cafeteria. The event is free and open to the public. Those wishing to make honorariums to the Midway ISD Education in honor of one or more of these recipients may do so and write a tribute athttps://edbacker.com/c/honor-our-distinguished-service-recipients.