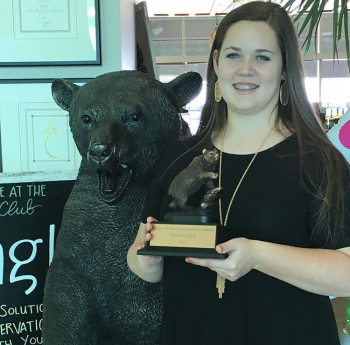 Midway Sophomore, Addison Bain won 3rd place in the nationwide Baylor Youth Entrepreneur of the Year contest.
Addison was nominated earlier this year by  2 Midway H.S. teachers and 1 H.S. Counselor (unbeknownst to each other), into this contest.
She was awarded 3rd place and spent the day at Baylor with 9 other finalists from around the country. Addison was not only the youngest contestant, she was also the only woman.
Addison is the owner and founder of Addigrams, monograms and embroidery by Addison. She started her business when she was 14 ,1 ½ years ago, and continues to grow and expand from monograms and embroidery to leather earrings. She has had business opportunity through Midway to make t-shirts, car decals and embroidery , in her local community through Christmas markets and local customers and also nationally through her ETSY shop!
Congratulations to Addison and keep up the good work!