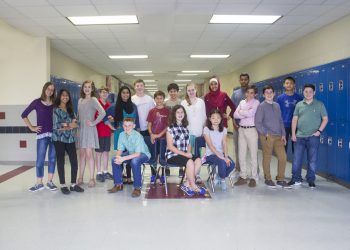 An impressive 18 Midway Middle School students qualified for the 36th annual Duke University Talent Identification Program's State Recognition.
The seventh grade students who received this honor earned scores equal to or better than half of the college-bound junior and seniors who took the SAT or ACT tests this year. 
Also, three of the students qualified for Grand Recognition at the National level, meaning that as seventh graders, they scored better than 90 percent of college-bound juniors and seniors who took the SAT or ACT tests. They will be invited to the Grand Ceremony at Duke University to honor the 7th Grade Talent Search participants who meet the grand level qualifying score criteria. Held in Cameron Indoor Stadium on the Duke University campus, students receive a commemorative medal.
The ceremony itself is similar to a graduation ceremony—there is a keynote speaker and honorees are called on stage to receive a commemorative medal.
The 2017 Duke TIP scholars from Midway Middle School include:
Grand Recognition Scholars, seated L to R:
·         Montgomery, Caleb
·         Johnson, Lily
·         Kuang, Heidi
State Recognition Scholars, standing L to R:         
·         Melichar, Ashlyn
·         Patel, Piya
·         Dougherty, Tyne
·         Lively, Caleb
·         Mohiuddin, Sidra
·         Goodman, Robert
·         Crawford, Judah
·         Battle, Samuel
·         Rhodes, Rebecca
·         Arshad, Rafia
·         Powell, Caden
·         Lutz, Carson
·         Shirley, Matthew
·         Zheng, Neon
·         Smyers, Samuel