Ten Midway High School choral students have been named to Texas Music Educators Association All-State Choirs. Congratulations to Brittany Brewer, Josie Pooler, Meredith Marcum, Kimberly Chancellor, Christina Morris, Mia Scott, Stephen Zheng, Joshua Tripp, Haley Luse, and Jeffrey Hulbert. Three of those students also received All-State 1st Chair in their categories: Brittany Brewer, Meredith Marcum, and Stephen Zheng.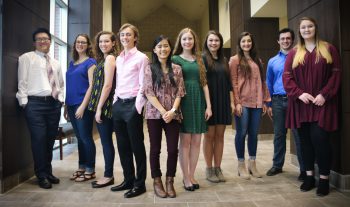 These talented vocalists will perform with the Texas All-State Choir in San Antonio, Saturday, February 9, 2017 as part of the 2017 Texas Music Educators Association Clinic/Convention. The students were chosen for this honor through a competitive process held this year across the state at District, Region and area levels. The Midway High School choirs are directed by Jeff and Jannifer Rice.
All of these all-state students take private voice lessons from Dr. David Guess and Ms. Julianne Best through the MISD Music Enrichment Program. The MISD Music Enrichment Program is in its 16th year and currently involves over 90 choir students taking lessons during the school day and 15 more who take lessons after school hours. Private voice teachers are Guess, Best, Christen Kimmel, Andy Eaton, Myrna Peralez and Zach Johnigan.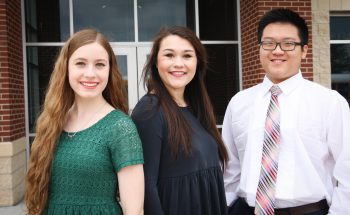 High school students selected to perform in the All-State concerts have competed through several levels of auditions beginning in the fall of 2016 to qualify at the state level. All-State is the highest honor a Texas music student can receive. Over 1,600 students are selected through a process that begins with over 60,000 students from around the state vying for this honor to perform in one of 15 ensembles (bands, orchestras, and choirs). Texas Music Educators Association sponsors the Texas All-State competition. This competitive process begins throughout the state in auditions hosted by 28 TMEA Regions. Individual musicians perform selected music for a panel of judges who rank each instrument or voice part. From this ranking, a select group of musicians advances from their Region to compete against musicians from other areas in seven TMEA Area competitions. The highest-ranking musicians judged at the TMEA Area competitions qualify to perform in a TMEA All-State music group. Only the top 3% of musicians who initially audition become All-State musicians.
These All-State students participate in three days of rehearsals directed by nationally-recognized conductors during the TMEA Clinic/Convention. Their performances for thousands of attendees bring this extraordinary event to a close. For the All-State concert schedule and conductor information, go to www.tmea.org/convention.
The Texas Music Educators Association is an association of over 11,000 school music educators dedicated to promoting excellence in music education. Go to www.tmea.org/convention for more information.