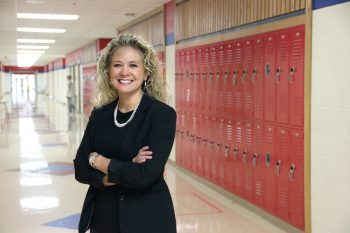 Midway High School Associate Principal Becky Odajima is the Texas Assistant Principal of the Year, as named by the Texas Association of Secondary School Principals (TASSP).
Superintendent Dr. George Kazanas said of Odajima, "We are certainly so proud of [her]. She is highly intelligent and always poised, yet she finds a way for her quiet strength and warm heart to shine through."
Odajima is in her first year as second in command to interim leadership. The award reflects her ability to step up quickly and capably to demands of a high-performing school while filling the void left by the departure of MHS' principal and associate principal this past summer. She previously served as an assistant principal for one year and instructional specialist for MHS. Her experience also includes instructional technology for Waco ISD, band director at middle schools in Michigan, and assistant band director in Cedar Park and Robinson.
Odajima is a current doctoral student at Baylor University, holds her Superintendent Certification from University of Texas Tyler, a master's degree from Central Michigan University, and a bachelor's degree in music from Stephen F. Austin University.
———
Midway Independent School District has celebrated an extraordinary string of state leadership awards in recent years. Odajima's award is preceded by:
2016
State Finalist for Outstanding Small School District (H-E-B Excellence in Education) – District
Nick Smith, Texas National Distinguished Principal Finalist (TEPSA) – Woodgate Intermediate
Jay Fischer, Texas National Distinguished Principal Finalist (TEPSA) – Spring Valley Elementary
Aaron Peña, Texas National Distinguished Principal Finalist (TEPSA) – Woodway Elementary
2015
Diane Gough, Texas National Distinguished Principal (TEPSA) – Hewitt Elementary
Aaron Peña, Texas Elementary Outstanding Principal (H-E-B Excellence in Education) – Woodway Elementary
Heather Metzgar, Texas Elementary Assistant Principal of the Year (TEPSA) – Hewitt Elementary
Dr. Mark Pantle, Outstanding School Psychologist of the Year (TASP) – District
Rick Tullis, State Business Leaders of the Year (CTAT) – School Board
2014
Texas Honor Board (TASA) – School Board
Jeff Gasaway, Texas Principal of the Year Finalist (TASSP) – Midway High School
Nick Smith, Texas National Distinguished Principal Finalist (TEPSA) – Woodgate Intermediate
2013
Alison Smith, Texas Assistant Principal of the Year (TASSP) – Midway High School