Midway High School's art program reached an impressive milestone this year with freshman Stella Raimondo making history as Midway's first-ever Gold Seal recipient at the state Visual Arts Scholastic Event (VASE). Her success was accompanied by two additional VASE state qualifiers from MHS as well as a group of Midway Middle School students who earned top scores in the Junior VASE competition.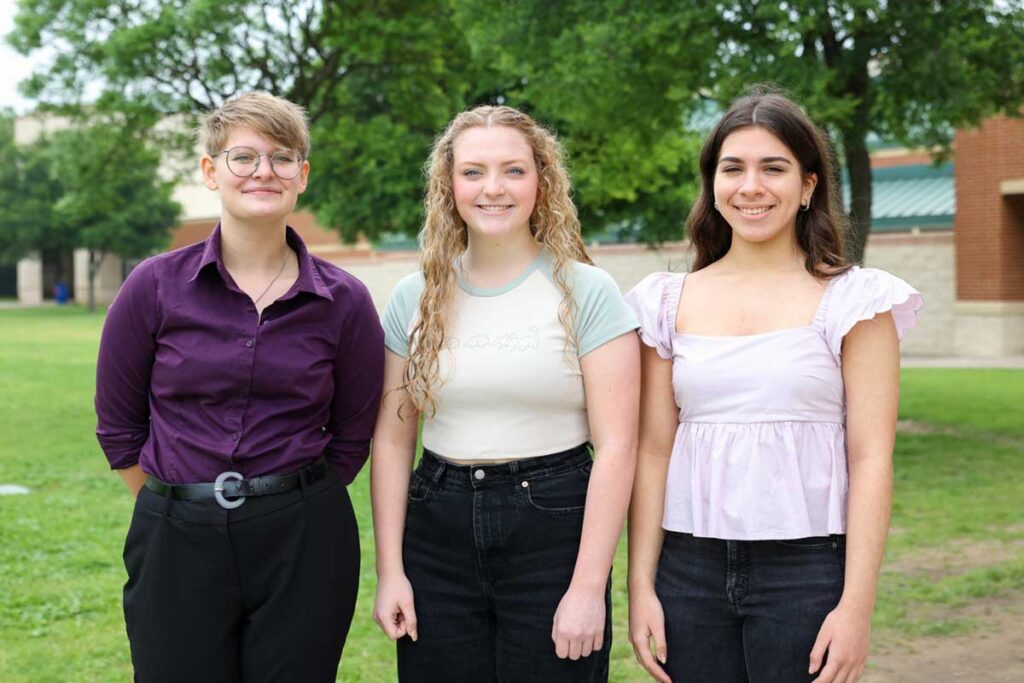 From left: Midway High School VASE state medalist Julie Akin, state qualifier Chloe Zaricor, and Midway's first-ever Gold Seal recipient Stella Raimondo.
In VASE, students receiving a rating of four—the highest possible score for exemplary works of art—at the State Event are eligible to be considered for the Gold Seal Award, the highest honor in VASE. Out of nearly 32,000 VASE competition entries statewide, only 151 students received a Gold Seal, putting Stella in the top 1% of high school art students in Texas.
Also competing at the state level of the VASE competition and receiving a rating of four was freshman Julie Akin, who was awarded a state medal and named an All-State artist by the Texas Art Education Association and VASE. Additionally, Senior Chloe Zaricor earned a four at the area VASE competition to advance as a state qualifier.
Guided by the mentorship of Midway High School art teachers Caleb Bales, Kim Abercrombie, John Storm, and Mary Dunn, Midway's three state competitors demonstrated the exemplary concept, technique, craftsmanship, and creativity required of state-level artwork.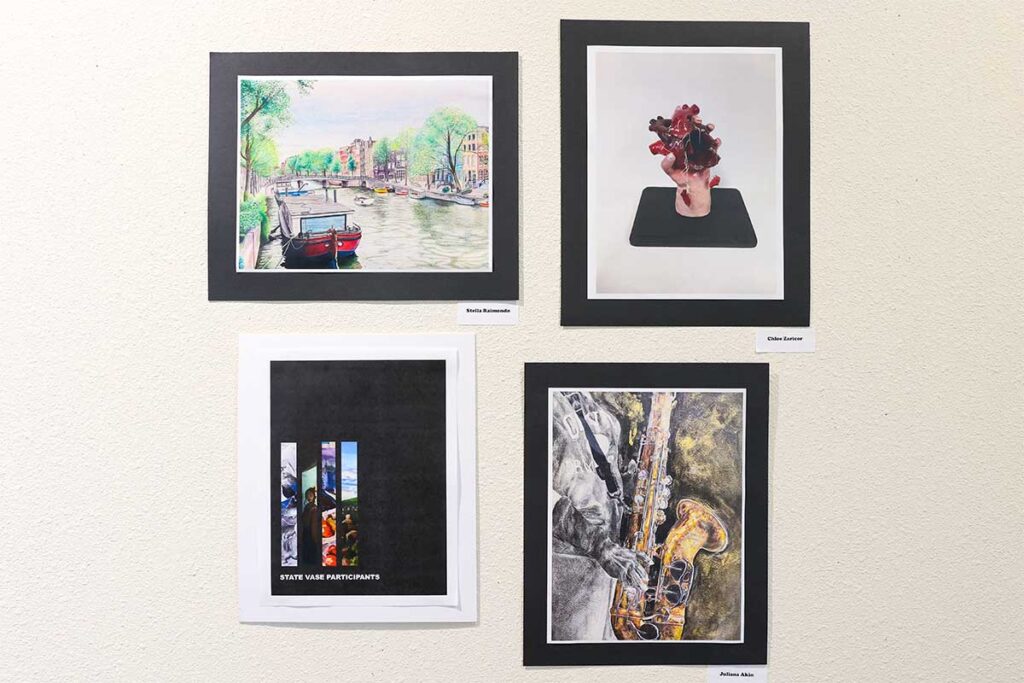 State-level artwork by Stella Raimondo (top left), Chloe Zaricor (top right), and Julie Akin (bottom right).
A wave of success also swept through Midway Middle School's art program as all seven students who entered their original works of art in this year's Junior VASE competition received the highest possible scores.
Lucas Horn, Emmy Parker, and Paige Presley each earned a rating of four and were awarded medals. In addition to achieving a rating of four on their artwork, Danna Ainsworth, Chloe Bernal, Sara Marzan, and Jeremiah Ocampos were awarded Platinum Medals, which are presented to the top 10% in each division and equivalent to a state award at the high school level.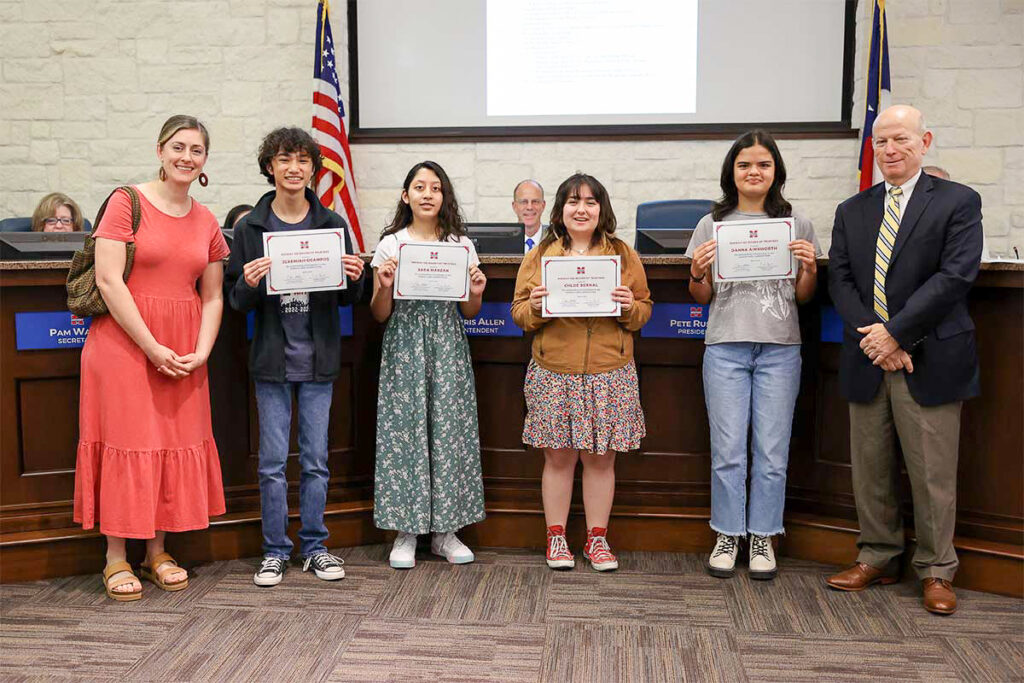 From left: Midway Middle School art teacher Sharon Bernard with Junior VASE Platinum Medalists Jeremiah Ocampos, Sara Marzan, Chloe Bernal, and Danna Ainsworth who were recognized at the May Board of Trustees meeting by Board President Pete Rusek.
This award-winning group of students was guided by the expert instruction of Midway Middle School art teachers Sharon Bernard, Gretchen Lamborn, and Robert Rynearson.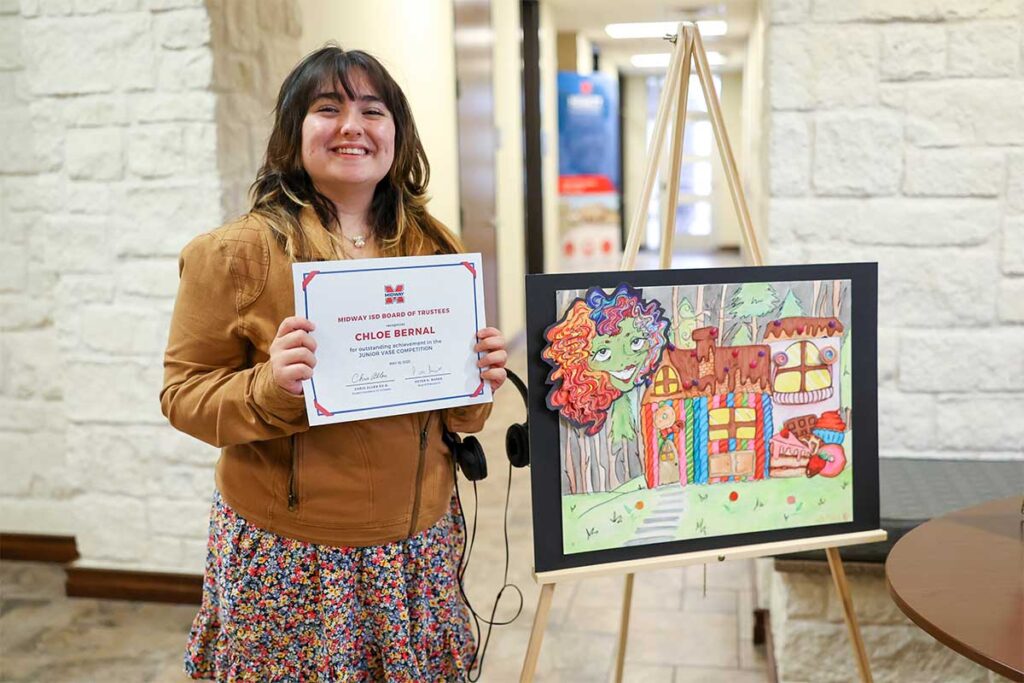 Midway Middle School Junior VASE Platinum Medalist Chloe Bernal stands with her award-winning artwork at the May Board of Trustees meeting.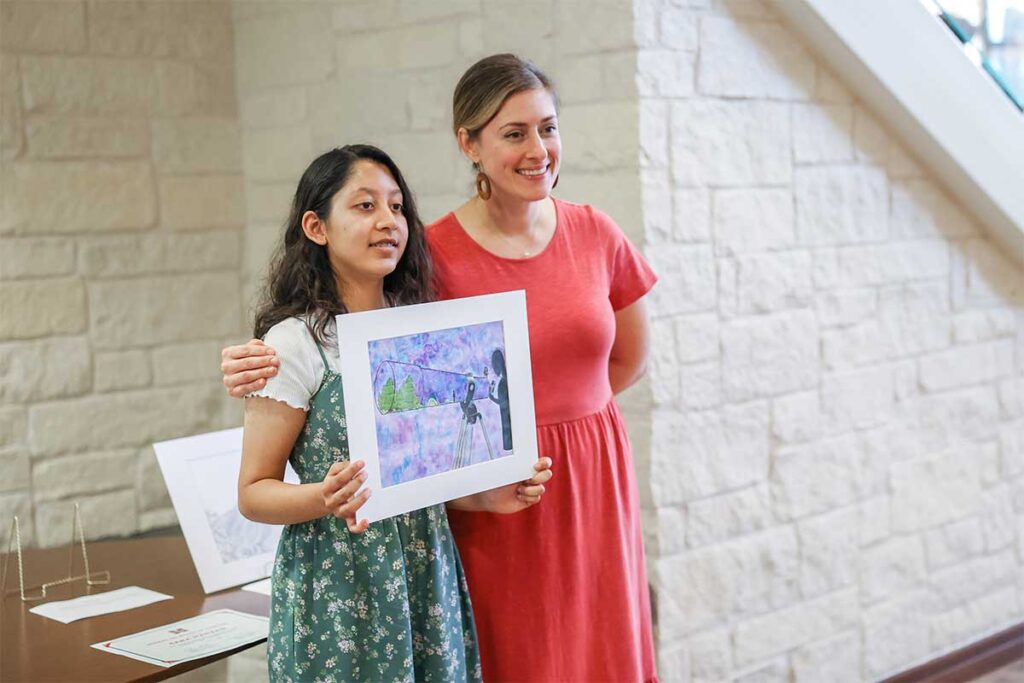 Platinum Medalist Sara Marzan (left) displays her Junior VASE competition piece with Midway Middle School art teacher Sharon Bernard at the May Board of Trustees meeting.