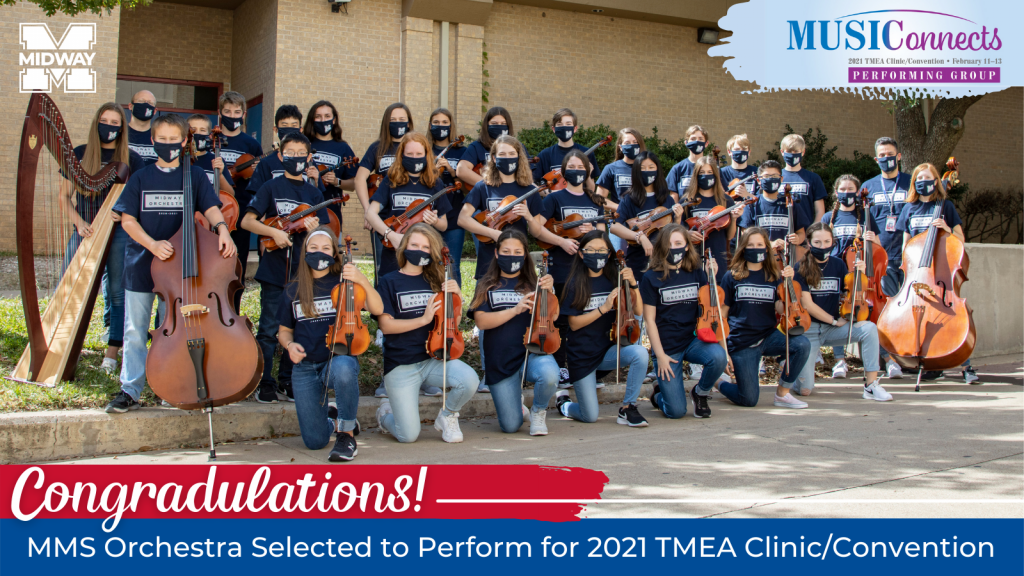 The Midway Middle School Chamber Orchestra has been invited to perform for the 2021 Texas Music Educators Association Clinic/Convention, held virtually, Feb. 11-13.
Ensembles invited by TMEA demonstrate the highest level of achievement in music education. It is only through the genuine commitment and collaboration of every student and director involved that an ensemble achieves this honor.
The MMS Chamber Orchestra, under the direction of Dr. Beau Benson, Terence Guerrero, and Veronica Espinosa, is one of hundreds of ensembles that applied for selection as a 2021 TMEA Invited Performing Group. Being chosen to perform for the largest music educators convention in the nation is a high honor.
"TMEA is especially proud of Texas music directors and students for rising up to the challenge of presenting a performance in these COVID times. They will surely be appreciated by thousands of music educators across our state—and world," TMEA Executive Director Robert Floyd said.
The TMEA Clinic/Convention provides music educators with professional development clinics and inspiring performances by elementary through university ensembles.
The Midway ISD Orchestra program began in the 2000-2001 school year with 62 students. In the twenty years since its inception, the program has grown exponentially.
Having appeared at national conventions such as the Midwest International Band and Orchestra Clinic and the American Choral Directors Association National Convention, this is the Midway Orchestras' first time as an invited ensemble to be featured at the TMEA convention.
About the Texas Music Educators Association:
The Texas Music Educators Association is an organization of over 13,000 school music educators who have worked to ensure the excellence of music education for all Texas students for over 100 years. To learn more about TMEA visit https://www.tmea.org/. For more information about the convention go to https://www.tmea.org/convention/.