Midway High School student athletes are being honored for their hard work and success on the field and in the classroom.
The Texas High School Coaches Association Academic All-State Teams recognize high school athletes who excel in the following categories: GPA, class rank and ACT/SAT score. The students below are being recognized as 2020-20201 team members based on their scores in these categories.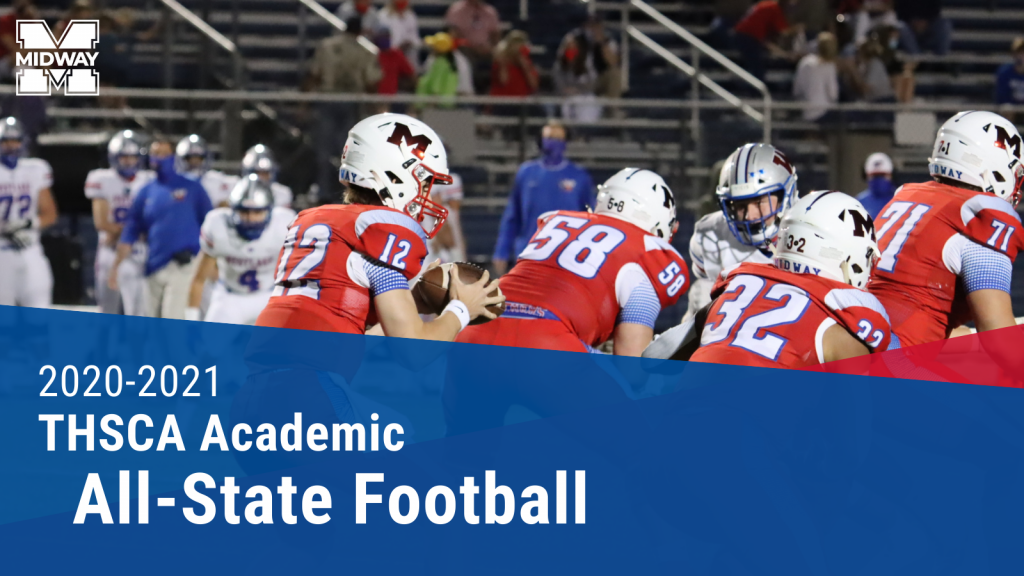 Congratulations to these MHS Panther Football players for excelling in their academics and extracurriculars.
Elite Team:
Miguel Convento
Walker Pierce
1st Team:
Walker Garrett
Declan McCabe
2nd Team:
Garrett Childers
Kyle Hawkins
Jaden Johnson
Alex Kainer
Caleb Koen
Micah Koen
Grayson McClendon
Logan Mercer
Jared Moore
Samuel Odedeji
Honorable Mention:
Reid Cromie
Tashi Franzen
Peyton Parnell
To be nominated for academic all-state, a student must be: an athlete, student trainer or manager in good standing with the team, of good moral character, a senior, and have an overall grade point average of 92 or above (including courses from grades 9-11 and courses completed from grade 12). Nominations are made by the head coach of the prospective sport.
The best team a player can make is the Elite Team. To achieve this distinction, a player must have near perfect scores in all categories. The Elite Team is then followed by 1st Team, 2nd Team and Honorable Mention.
We applaud these students' hard work; their commitment and dedication to perform with the highest of excellence is noteworthy.