Five Midway ISD schools have been named to the 2019-2020 Educational Results Partnership (ERP) Honor Roll for high achievement in student success.
The ERP Honor Roll program, sponsored by the Campaign for Business and Education Excellence, is part of a national effort to identify higher-performing schools and districts that are improving student outcomes.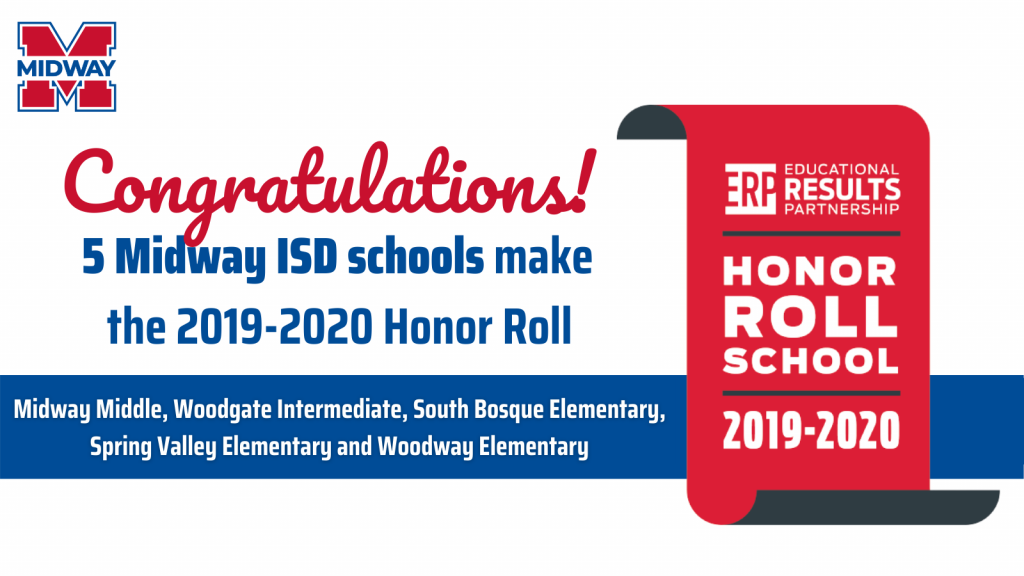 The honored campuses are:

Midway Middle School
Woodgate Intermediate School
South Bosque Elementary School
Spring Valley Elementary School
Woodway Elementary School
All of these schools are among the 3,490 public schools in the nation to receive this distinction.
The 2019 – 2020 ERP Honor Roll was developed using the nation's largest database on student achievement, which is maintained by the ERP, to identify successful schools and districts. Honor Roll is the only school recognition program in the state that exclusively uses student achievement outcomes as selection criteria.
Schools that appear on the Honor Roll have demonstrated consistent high levels of student academic achievement, improvement in achievement levels over time and a reduction in achievement gaps among student populations.
Midway Middle, Woodgate Intermediate, Spring Valley Elementary and Woodway Elementary Schools all received recognition in the Star category as high performing, achievement gap closing schools. South Bosque Elementary School was recognized in the Scholar category as an achievement gap closing school exhibiting high performance without significant levels of low-income students.
These schools are all being recognized on the ERP Honor Roll because they have demonstrated the ability to get students to grade-level achievement and beyond.
About the Educational Results Partnership:
The Educational Results Partnership is a nonprofit organization that applies data science to help improve student outcomes and career readiness. They use data science and predictive analytics to identify successful public education systems, practices, programs and policies that are delivering the best results for students. The ERP is committed to closing equity gaps in education and the labor market, and their research centers on improving academic and workforce outcomes for all. ERP's goal is to ensure that more students are equipped to enter the workforce with the skills today's global economy demands. To learn more visit: https://www.edresults.org/.