Ten Midway High School students have received notice of recognition through the National Merit Program, and one has been named a National Merit Semifinalist. Finalists will be named in February of 2021.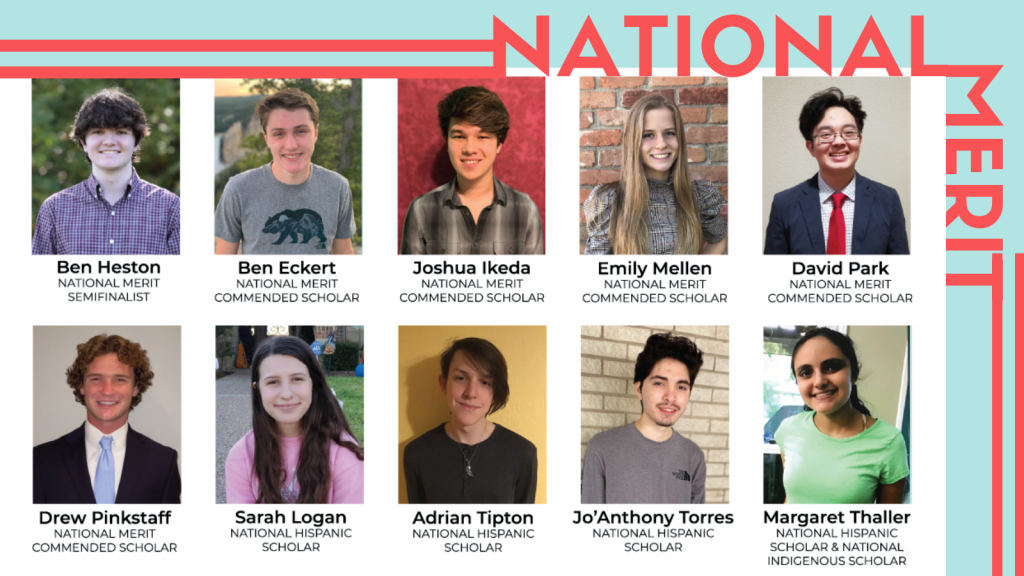 Congratulations to Midway High School's National Merit Semifinalist: Ben Heston.
Ben Heston is the son of Jim and Jodi Heston of Hewitt. He is a Member of the Midway Panther Band. In addition to his semifinalist status, he has earned numerous academic awards including an AP Scholar with Honor, TMEA Solo and Ensemble Gold Medalist, UIL Region Band Member, National Spanish Examinations Silver Medalist, and a Cyberpatriot Round 3 Qualifier. Outside of school, he is a member of the Calvary Baptist Youth Group. In the future, he hopes to attend CalTech to earn a computer science degree.
Five Midway High School students were named National Merit Commended Scholars, ranking in the top five percent of the nation: Ben Eckert, Joshua Ikeda, Emily Mellen, David Park, and Drew Pinkstaff.
Ben Eckert is the son of Jon and Carolyn Eckert of Woodway. He has earned a National Honor Society membership, and has won both Midway Student of the Week and Panther Pride awards. He is a member of the PALs program and was captain of his basketball team last year. Outside of school he is a member of the Harris Creek and First Woodway youth groups and is a Spikeball Ambassador. "I plan to go to Baylor University and study economics," he said.
Joshua A. Ikeda is the son of Tom and Michele Ikeda of Hewitt. He is a member of the Midway Panther Band and track. Outside of school he is active with Boy Scouts. His future plans are to attend The University of Texas and major in engineering.
Emily Mellen, daughter of Rice and Susie Mellen of Woodway, is a National AP Scholar with Distinction and a member of the National Honor Society. Emily is an active musician who began playing the cello in elementary school. She participated in the All-Region orchestra and has received a Superior rating at the Baylor Junior Festival for the past five years. This has led to six All-State honors in cello solo, concerto, duet and trio awarded by the National Federation of Music Clubs. Emily has played volleyball since her youth; she is currently a varsity player for Midway and played for Waco Juniors Volleyball Club for three years. Emily was voted MVP her sophomore year by her fellow teammates. She volunteers to help instruct elementary students in the Midway Summer Volleyball camp and in the Children's Garden Fair. She is a member of Redeemer Presbyterian Church and active in the youth program. Upon graduation, Emily plans to pursue a degree in chemical engineering.
David Park is the son of Yoo-Mi Chin of Woodway. He is a cellist with the Principal Symphony Orchestra, the varsity debate team captain, on the UIL Academics math team, a member of both the Spanish Club and Spanish National Honor Society, as well as a member of the computer science club. He has earned numerous academic distinctions including National AP Scholar, National Spanish Exam gold & silver medals, he is a three-time UIL State Solo and Ensemble Division I rating winner, a UIL Cross-Examination Debate State Qualifier, and a 2019-2020 Waco Symphony Youth Orchestra Concerto Competition Winner. Outside of school, he volunteers for "Music for Heroes" at The Doris Miller Veterans Affairs Medical Center and is a praise team cellist at Korean United Methodist Church. His future plans are to work in the field of physics.
Drew Pinkstaff is the son of David and Kristin Pinkstaff of McGregor. He is a four-year member of the varsity tennis team as well as a captain, a 2020-2021 Spanish Club officer and four- year member, a two-year member of The National Honor Society, and an MPACT Leader. He has earned awards such as Advanced Placement Scholar and a 2019 National Spanish Exam Silver Medalist. He also is a member of Teen Leadership Waco, the Symphony Belles and Brasses, frequently volunteers at the Talitha Koum Institute, and is a private tennis instructor. In the future, he plans to plans to attend college to study premed/chemistry then attend medical school.
There were four National Hispanic Scholars including Sarah Logan, Adrian Tipton, and Jo'Anthony Torres. Margaret Thaller is Midway's first National Indigenous Scholar in addition to being a National Hispanic Scholar.
Sarah Logan is the daughter of Veronica and Joseph Logan of Waco. She is a member of The National Honor Society, Regional Robotics Champions, earned National Hispanic Recognition, and earned first team academic all-district for soccer. She is a member of the MHS Girls Robotics Team, Spanish Club, plays varsity soccer, runs with cross country and track, as well as participated in the art program. Outside of school, she volunteers with her church and Caritas and plays on a select soccer team. "I plan on pursuing a biomedical sciences degree at A&M," she said.
Margaret Thaller is the daughter of Drs. Katherine and Ephraim Thaller. She is an AP Scholar with Distinction and a silver and bronze medalist on the National Spanish Exam. She is involved in National Honor Society, art, and theatre. She plans to study neuroscience in college and hopes to attend medical school with the goal of practicing neuropsychology.
Adrian Tipton is the son of Shane and Kenny Tipton of Woodway. He earned Duke TIP as well as NSHSS membership. He has engaged in charity work raising money for The American Cancer Society. "I am looking to attend UT Austin and study genetic engineering," he said.
Jo'Anthony Torres is the son of Donny Torres of Hewitt and Emilia Elkins of Waco. He has earned various academic awards as well as Panther Pride awards. He plans to attend Baylor where he will pursue a degree in mathematics