By: Samantha Marquise, MISD Intern
The overwhelming success of TV shows like CSI, NCIS, and Law & Order show the fascination that people have with forensic science. For students at Midway HS, these crime scene investigations are brought to real life in the classroom! MHS teacher Kasha Gorham is helping introduce students into the world of criminology and teach them the science behind some of their favorite television shows. Through her newest grant, Measure with Precision, Mrs. Gorham is working to improve the accuracy and reality of her classroom crime scenes with the usage of new digital calipers.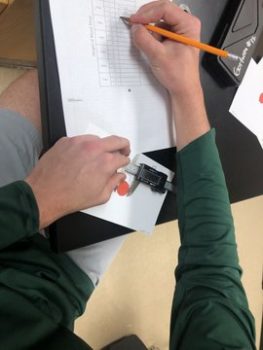 Digital Calipers are used by professional crime scene analysts to make precise measurements of wound marks and blood splatter. While teaching kids to measure blood stains may sound a little gory, the precision of these measurements in a real crime scene are essential, and therefore are highly important to teach those interested in the field at an early age. According to Mrs. Gorham, "being able to make precise measurements means catching the suspect or not". Using the tools in the fictitious crime scene set up by Mrs. Gorham, students are able to recognize the impact of different weapons as well as analyze blood stain patterns to determine the direction and angle of the weapon used. The grant has provided enough digital calipers for each student to have one, giving them a unique opportunity for a hands-on experience in the world of criminal investigation.
The purchase of the digital calipers has created a large impact in the forensic science classroom and will continue to impact the students throughout their career. By allowing students to gain practical knowledge and experiences with the criminology industry, students are able to determine if their fascination is primarily in the hollywood-ization of the industry on TV, or if it is actually a strong passion that they wish to pursue as a career. By giving students the opportunity to explore future careers while still in school, Midway ISD is helping students make well educated decisions about their future. Having some sense of direction career-wise is game changing when it comes to choosing colleges, majors, and much more. Through the Measure with Precision grant, and many more like this, Midway is giving students the best possible preparation for life outside of MISD.
This grant has been named in honor of Carter BloodCare in appreciation of their long-time support, but all of the Education Foundation's donors made this possible. For more information about the Midway ISD Education Foundation and their programs, visit www.midwayisd.org/foundation.