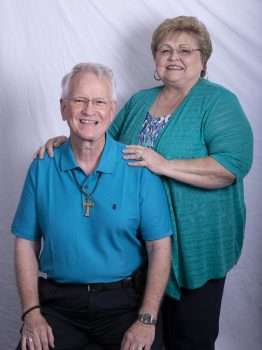 By Adia West, Midway Independent Study in Journalism Student
Piano music softly echoes from a modest brick house on the corner. Inside, Tom Johnson, a former art teacher, and Jeanie Johnson, a former music teacher, reflect on their devotion to influencing the world through fine arts. The Johnsons are two of five retired Midway instructors who will be honored with the Midway ISD Distinguished Service Award for their years of outstanding dedication and passion while serving as teachers in Midway ISD.
"If we could do it all over again… yes, in a heartbeat; we would have done exactly the same thing," Tom Johnson said, "and if we could live longer and could have taught longer, we would have certainly have done that."
Between them, the Johnsons have accumulated more than 70 years of teaching; with Tom continuing his passion as a trainer for future art teachers at McLennan Community College. Although their careers officially began in Tyler, both knew since childhood that they were destined to spend their life in the classroom.
"[Teaching] is a calling, we believe, from God," Tom Johnson said.
Despite no longer having the traditional platform, they manage to remain proactive and influential members of the Waco community. With their missions ranging from singing at retirement homes and the Temple VA, to writing letters to nursery home residents who otherwise would have no human contact, the Johnsons continue their work to spread joy to those around them.
"We have a little letter writing ministry together that we do," Jeanie Johnson said. "It's writing 116 people a week."
Though an immense number to most, the Johnsons can name each and every one of those 116 residents, and recognize them on sight. It is this ability to make meaningful connections that made the duo incredible teachers. To them, they were not just educators, they were influencers. With a calling to make life more meaningful for others, the Johnsons used the classroom to enable a culture of purpose to manifest in students.
"It was a place they could come and create when they didn't think they could find success," Jeanie Johnson said. "One of the things I loved about teaching is very often there were kids who had problems in other areas, and they could not succeed in those areas but they could come in and succeed in music. They could find a little niche that could become theirs."
Through their classrooms, the Johnsons combined their love for music and desire to positively impact the world around them in order to change the lives of many. From their son, daughter, and three grandchildren, who are now active in the arts and the community, to their former student teachers, and to the students they once taught, the Johnsons have transformed the Midway community. The Johnsons continue to sing of the blessings they have received, saying that they "had the careers of a lifetime," and for that, they are "grateful to God, and to Midway."
At their piano, Tom and Jeanie Johnson sang in unison: "All our lives you have been faithful. All our lives you have been so, so good. With every breath that we are able, we will sing of the goodness of God."
Join us to celebrate the Johnsons, Lisa & Tim O'Leary, and Cindy Ledbetter (in memoriam) during the Distinguished Service Presentation on Sunday, October 20th from 2-4 PM at the MMS Cafeteria. There is no cost to attend.