By Katie Frost,
Baylor University Student
Midway ISD Intern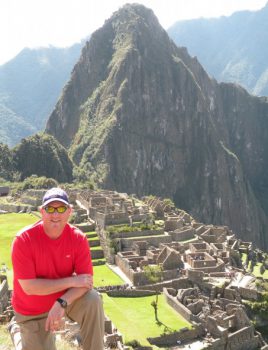 In a culture that tends to define our worth and value by the number of likes or friends on social media, it's on us to think differently. Change University's slogan is: "Cultivating Tomorrow's Global Difference Makers!" According to this year's distinguished alumnus, Dr. Jim King, we all have the ability to create change and help others. King believes that Midway is sending out these difference makers.
King graduated from Midway High School in 1975 and was previously the Dean of Business and Dean of Global Engagement at the University of Mary Hardin Baylor. He has taught over 20 courses in the business department. King also travels internationally to assist businesses and entrepreneurship in developing countries.
Kings passion for others guides his words and actions.
His parents taught in public education, and though he always imagined following a different career path, King has been in academia for over 40 years. He never considered a career in academia until a professor proposed the idea in college.
"The moment I stepped into my first class as a teaching assistant, I realized I am called for this," King said.
As a student, King was involved in varsity sports, the school's newspaper as editor, Fellowship of Christian Athletes, Spanish Club and Key Club as president. Additionally, King won the Citizen of the Year Award at Midway High School.
"There was a strong emphasis on discipline and involvement when I was a student," King said. "Good relationships between faculty and staff were encouraged. Even though they pushed you hard, you respected them. It wasn't just about academics; I was prepared for a lot of life's challenges down the road."
In 2015, King and a group of four Midway students had a conversation about the young generation's desire to make a difference in the lives of others. There was a clear desire among the students surrounding them, yet they saw a lack of resources and experiences to support this longing. Without the tools to help, the desire faded for many. King and the students imagined an outlet to share information regarding social justice issues and different attempts to tackle them.
Change University is a blog featuring people and organizations changing the world through posts, photos, links and videos. King currently serves as "head cheerleader" and president. The blog celebrates "Champions of Change" from around the world by sharing stories and encouraging service.
According to King, we have been put on this earth to help others. Many today thrive on things like success, money and fame. King's beliefs are counter to what culture says.
"This is not an easy calling," King said. "We are to figure out our gifts and talents, and see how we can use them to help others. This will be more difficult than trying to succeed."
King sees the Distinguished Alumnus award as an honor, yet immediately felt reservations after hearing he would receive the award. He believes if it was about honoring good people, then hundreds should be celebrated. King sees this award as an outlet to be a voice to the Midway community.
"My challenge to the average student is that it's not about you," King said. "It's about how you can make a difference in the lives of others."
The Kings are a Midway family as his wife and kids graduated from Midway. King and his wife currently live in Waco. For more information regarding Change University please go to: https://www.changeuniversity.org/about/. To nominate a Distinguished Alumnus, visit the Alumni Awards page at www.midwayisd.org/alumni.