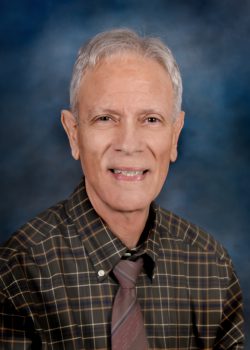 Any former student of Mr. David Vardeman's would be able to tell you "the Lysol story." Anytime a student in Mr. Vardeman's classroom would cough or sneeze, he would immediately jump up and spray their desk to prevent germs from spreading. While this seems like a practical thing for a teacher to do, he also did it because he knew it would make his students laugh.
Mr. Vardeman wanted his students to love school and enjoy learning. He recalled a time when he played a prank on Principal Sharron Zachry by hiding in the back of his classroom when she came to visit the students. He said he kept quiet and low under a desk while his students told Principal Zachry they haven't seen Mr. Vardeman all day. Eventually, he jumped out from under the desk and his students erupted with laughter.
Mr. Vardeman was willing to do anything he could to make learning fun and exciting for his students. When he team-taught with Onetia Sheppard, they dressed up like Indians to teach the book Light in the Forrest and the two teachers created the game Spelling Bee Nerf Basketball to help students prepare for the spelling bee.
Light in the Forest was one of the novels he taught because it allowed him to share his own interests with his students. He is a Native American presenter and collector and when he would teach this book, he would bring in his Native American artifacts such as clothing, headdresses, and weaponry and rawhide containers to show his students. Even though he is retired from teaching, he still goes into schools, churches and retirement centers to share his interests with others.
"Kim Neuhaus invites me to read to her first grade class. I dress up as an Indian and bring a door prize of a dream catcher for the students," Vardeman said.
Mr. Vardeman made such a lasting impression on his students because he spent time investing in them individually. He developed a relationship with each and every one of his students so he could not only learn their strengths and learning style in the classroom, but also their interests out of the classroom. He was aware that each student learned through different techniques and he enjoyed helping his students learn in a manner that was best for them. Also, he attended students' sporting events and other activities outside of the classroom as much as he could regardless of whether they were a current or former student.
"Many would come back to the middle school to visit me after they had left because I showed interest in them," said Vardeman.
Whenever he saw the name or accomplishment of a former student in the newspaper, he would cut it out and mail it to them. He recalled a time when a former student of his played baseball at Texas Tech and came back to visit him to give him a Texas Tech baseball hat.
Upon the notification that he was selected as one of the recipients of this reward, Mr. Vardeman said he was flabbergasted. "Out of all the teachers I can't believe the committee selected me," Vardeman said.
David Vardeman was inspired to become a teacher because his strong love of school. As a student at Connally High School, he always enjoyed his English classes because of his affinity for reading and knack for grammar. He began working for Midway ISD in 1969 as a 7th grade English teacher at Midway Junior High, now Midway Middle School, where he continued teaching for 40 years.
Mr. Vardeman is very grateful to past teachers and colleagues who helped and inspired him during his career. After he expressed his interest in becoming a teacher, a former elementary school teacher of his, Velma Wafer, invited Mr. Vardeman to observe and help out in her Elm Mott classroom. During his first year of teaching, Jimmie Coleman and Betsy Curry acted as mentors. "I owe a debt of gratitude to all those who helped me adjust to life at Midway," Vardeman said.
Some of Mr. Vardeman's happy memories took place outside of the classroom. He recounts the tale of how MMS principal Mike Cooper and he once participated in a three point shootout against the two top-ranked basketball players in the eighth grade. Mr. Cooper and Mr. Vardeman won the competition. "It was shocking that we won," remarked Mr. Vardeman.
Mr. Vardeman and the other distinguished award recipients will be recognized on October 22, 2017 at the Middle Middle School cafeteria at 2 p.m. This event is free and open to the public. Those wishing to make honorariums to the Midway ISD Education Foundation and write a tribute to Mr. Vardeman or other Distinguished Service recipients can do so at https://edbacker.com/c/honor-our-distinguished-service-recipients