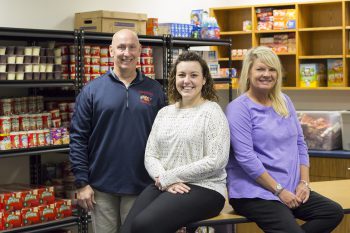 National award program recognizes innovation and excellence in public schools
 Nearly one in three Midway students qualifies for assistance just to have breakfast or lunch at school—but who helps over the weekends and holidays? Hunger Free MISD has served 15,000 packs of food to students most in need, and now the 23rd annual Magna Awards program has recognized Midway ISD's efforts to feed disadvantaged students as among the best programs in the country.
Sponsored by the National School Boards Association's (NSBA's) flagship magazine, American School Board Journal (ASBJ), the Magna Awards recognize school districts and their leaders for taking bold and innovative steps to improve the lives of students and their communities.
"Creativity and innovation are needed to help students realize their full potential," said Thomas J. Gentzel, NSBA Executive Director and CEO. "The Magna Award-winning districts are prime examples of how public schools all over the country are working to give students a high-quality education and life."
This year's three grand prize, 15 first place, and 15 honorable mention winners were selected by an independent panel of school board members, administrators, and other educators from more than 200 submissions in three enrollment categories: under 5,000 students, 5,000 to 20,000 students, and over 20,000 students.
Midway ISD received an honorable mention in the 5,000-20,000 student category for Hunger Free MISD, a program that sends home packs of food on weekends and holidays for students most in need of assistance. Hunger Free MISD is a collaborative program, started at Midway High School by educators Kayla Brown, Jana Thomas, and Jeff Fisher in response to changing demographics in the district. This school year, 34 percent of Midway students are economically-disadvantaged, meaning that one-third of the students qualify for federal assistance with breakfast and lunch while at school, but MHS staffers noticed that some students were going hungry over the weekends.
Brown, Thomas, and Fisher are still integral in the management and execution of the program on a weekly basis, which now involves collaborations across the district. The process starts with campus counselors identifying students and families who need extra assistance. Midway's child nutrition office, contracted with Aramark, helps facilitates bulk orders and the MISD Maintenance department delivers the orders to MHS. Life Skills (Special Education) students stock the shelves, learning a skill for future employment. The Midway High School Marine Corps Junior ROTC assembles about 160 packs every week, which are delivered to campus by juniors and seniors in the Peer Assistance & Leadership (PALs) program. When it's time for extended holiday breaks, district administrators pack boxes of full holiday meals and local churches deliver directly to families' homes at Thanksgiving and Christmas. The Association of Texas Professional Educators (ATPE) coordinates a collection on each Midway campus of food and funds for Hunger Free MISD during a designated month of the school year, raising approximately $35,000 annually to sustain the program. Local companies like Bush's Chicken also support the program through fundraisers and donations. Over the past four years, Midway has distributed more than 15,000 Hunger Packs to children in need.
The 2017 Magna winners are highlighted in the April issue of ASBJ and were recognized on Saturday, March 25, in Denver, Colorado, at the School Leaders Luncheon, which is part of NSBA's Annual Conference.
Donate to Hunger Free MISD by mailing monetary donations to Midway ISD, ATTN Melisa Erbe, at 13885 Woodway Drive, Woodway, TX 76712. Donations of food products can be delivered to Midway High School to the attention of Jeff Fisher, Kayla Brown, or Jana Thomas. A wish list of items is at www.midwayisd.org/hungerfree.