Seventeen Midway ISD students advanced to the state level of the PTA Reflections art contest this spring and were awarded by Texas PTA for their outstanding artwork.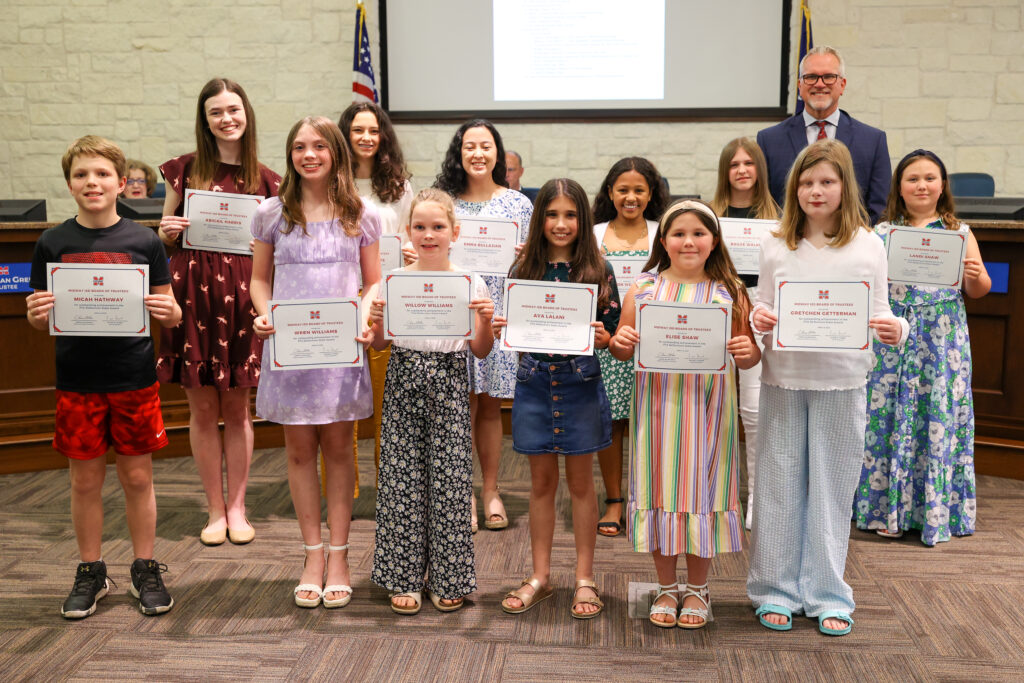 Midway ISD recognized students awarded at the state level of the PTA Reflections contest during the April Board of Trustees meeting. Pictured from left to right are (back row) Abigail Harris, Makenna Potts, Emma Bullajian, Madison Wilkerson, Bailee Walker, Landi Shaw, (front row) Micah Hathway, Wren Williams, Willow Williams, Ava Lalani, Elise Shaw, and Gretchen Getterman with school board member Brad Alford.
Each of these students ranging from elementary to high school submitted original works of art in response to the 2021-2022 Reflections Contest theme "I Will Change the World By…" in one of the following six arts categories: Dance Choreography, Film Production, Literature, Music Composition, Photography, and Visual Arts.
Abigail Harris, Madison Wilkerson, and Gretchen Getterman each received an Award of Merit and are among approximately just 15% of participants to achieve this level of distinction. All entries awarded with an Honorable Mention, Award of Merit, or higher were invited to attend the Texas PTA's Reflections Awards Ceremony in San Antonio.
The goal of the Reflections contest is to provide students of all ages and abilities with an opportunity to experience the benefits of creative expression and find their own voice in telling their unique stories. In Texas, nearly 850 entries advanced to state for judging, and the following Midway students were chosen from this select group to receive state-level honors:
Midway High School:
Abigail Harris: Photography, "Make a Splash," Award of Merit
Mya Hasbun: Music Composition, "Random Word Generator," Honorable Mention
Makenna Potts: Dance Choreography, "The Voices," Honorable Mention
Emma Bullajian: Film Production, "Overcomer," Participant
Tatyana Chambers: Visual Arts, "Be You," Participant
Kaitlyn Peebles: Literature, "Stories," Participant
River Valley Middle School:
Madison Wilkerson: Dance Choreography, "We are the world/We are the children," Award of Merit
Bailee Walker: Photography, "The morning Butterfly," Honorable Mention
Jalissa Daniels: Literature, "Woman have rights too!" Participant
Landi Shaw: Visual Arts, "Winter Pikachu says HI," Participant
South Bosque Elementary School:
Gretchen Getterman: Visual Arts, "Expressive Lips," Award of Merit
Finley Davis: Photography, "Stay Golden!" Honorable Mention
Ava Lalani: Music Composition, "My Dialectic Voice," Honorable Mention
Elise Shaw: Visual Arts, "Singing with the Flowers," Participant
Woodway Elementary School:
Micah Hathway: Literature, "The Voice of Kids," Honorable Mention
Willow Williams: Dance Choreography, "Encouraging Others," Honorable Mention
Wren Williams: Dance Choreography, "Courage," Honorable Mention