All four of Midway High School's semifinalists have advanced to finalist standing in the 2023 National Merit Scholarship Program.
As National Merit Finalists, Midway High School seniors Tristan Newman, Hunter Shi, Samuel Thaller, and Thomas Warkentine received some of the highest scores on the PSAT/NMSQT in the state of Texas and represent less than 1% of U.S. high school seniors who earn this prestigious academic honor.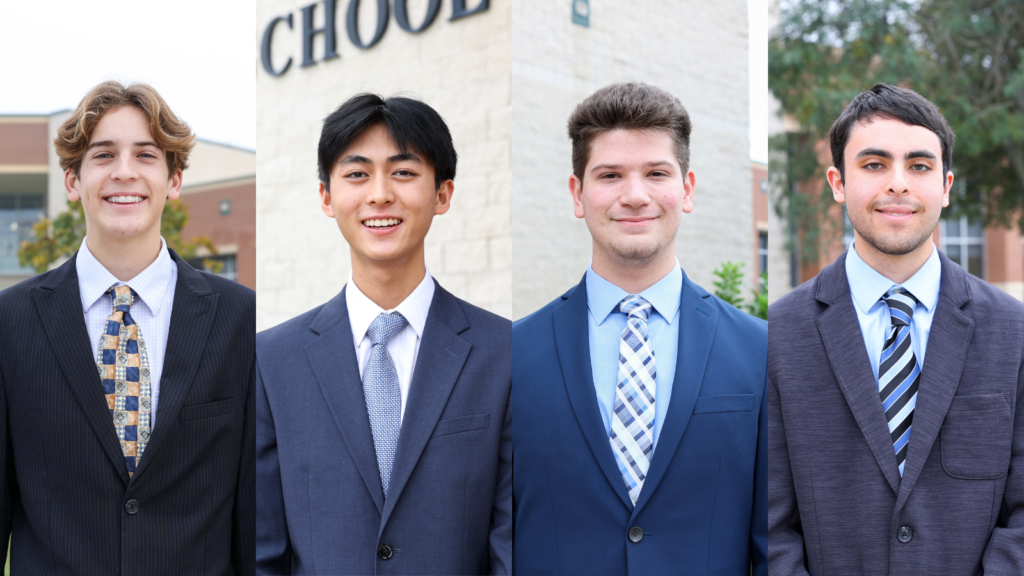 Out of the 1.5 million students who took the 2021 Preliminary SAT/National Merit Scholarship Qualifying Test, only the top 3.33% with the highest scores qualified for recognition in the National Merit Program, and even fewer are recognized as finalists with the chance to compete for a National Merit Scholarship.
National Merit Finalists are selected based on their exceptional abilities, skills, and accomplishments. To become finalists, Midway's four semifinalists demonstrated exceptional leadership abilities and significant involvement in their school and community in addition to consistently meeting high academic standards.
The 2023 National Merit Scholarship winners will be announced in a series of nationwide news releases beginning in March and concluding in June.
Tristan Newman
Tristan Newman is the son of Greg and Amanda Newman of Woodway. He is an AP Scholar with Honor, a two-time National Spanish Exam gold medalist, a member of the National Honor Society, and a recipient of the Spirit of Midway Award. Tristan is a 7-year choir member and currently sings in the Chamber and Meistersingers Choirs. He is also a member of the Antioch Community Church Youth Group where he serves on mission trips and the student leadership team. Upon graduation, Tristan plans to attend Texas A&M University to study engineering.
Hunter Shi
Hunter Shi is the son of Holly and Hugo Shi of Woodway. He is an AP Scholar with Distinction and is the president and founder of the MHS Foodies, a club dedicated to helping address food insecurity and fostering community through food. In addition, Hunter is a founding member of the MHS Diversity Council, a concertmaster of the Midway Varsity Symphony Orchestra, a National Honor Society member, and competes on the UIL science team. As an active volunteer in the local community through Caritas Food Bank, Hunter is also a recipient of the Spirit of Midway Award. He is very involved in music as a violinist in the TMEA All-Region Symphony Orchestra, the Waco Symphony Youth Orchestra, the Suzuki Academy of Waco, and the SAOW Varsity Quartet. Hunter also serves as a violinist on the Sunday worship team at First Methodist Church of Waco. Following graduation, Hunter plans to pursue studies in computer science and global health.
Samuel Thaller
Samuel Thaller is the son of Kathie and Ephraim Thaller of McGregor. He is a National Spanish exam medal winner, a Spirit of Midway Award recipient, and an AP Scholar with Distinction. Sam has been a member of several student organizations including Student Council, National Honor Society, HOSA, and Foodies. Sam has been a volunteer in the local community through the Salvation Army, Stuff the Bus, and Keep Waco Beautiful, and has also worked for the past two years at Raising Cane's. After graduation, he plans to attend Texas A&M University as a biochemistry or biology major.
Thomas Warkentine
Thomas Warkentine is the son of Angie and Brian Warkentine of Hewitt. He is a National Hispanic Scholar, National Spanish Exam Silver Medalist, National Honor Society Member, and AP Scholar with Distinction. In addition, Thomas is also a NASA High School Aerospace Scholar and was selected to participate in the NASA STEM Enhancement in Earth Science Summer Internship program. He is a member of the UIL science, robotics, and powerlifting teams, and in his free time, Thomas volunteers at the Hewitt Public Library and works at Kumon of Waco. His plans following graduation are to pursue a degree in biochemical engineering.