After an impressive performance at the Texas Thespians State Festival, Midway High School Theatre students are being recognized as some of the best in the state and six students earned a spot in the national competition.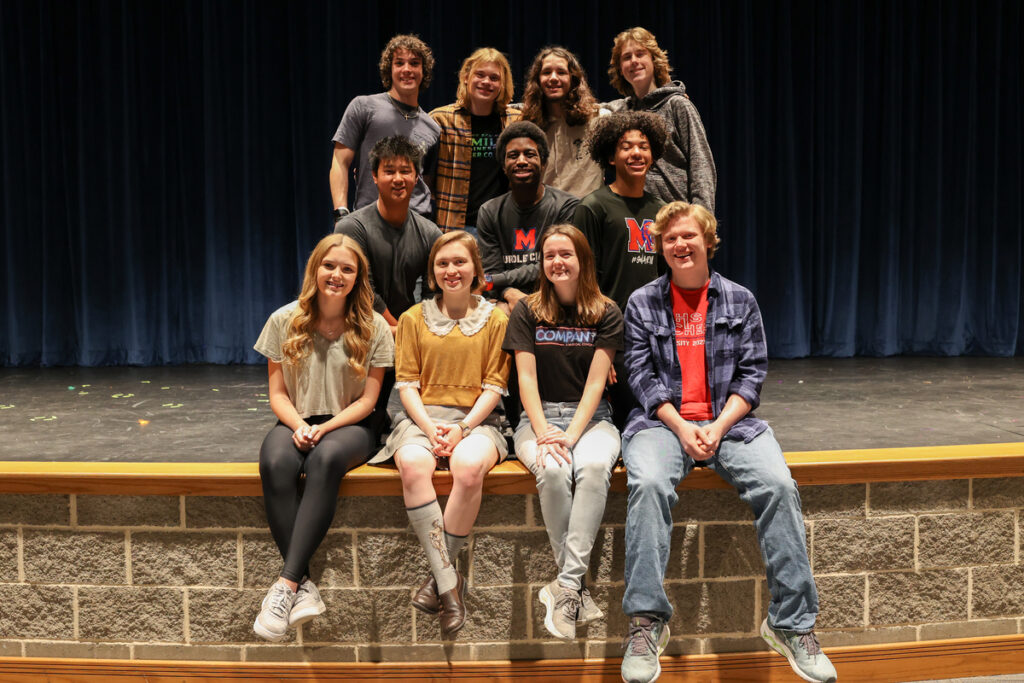 Pictured left to right: (top row) Davis Duncan, Jackson Pyron, Chuckie Castillo Jr., Cole Harris, (middle row) Leland Chiles, Darrious Bedford, Midway High School Improv Troupe Leader Devontae Reyes, (bottom row) Kimi Clendennen, JoEllen Pittman, Dylan McEachern, and Zach Williams.
Devontae Reyes and Chuckie Castillo Jr. along with Zach Williams and Cole Harris qualified to compete at nationals in duet acting. Zach Williams is also a national qualifier in short film alongside Dylan McEachern in playworks and Jackson Pyron in monologue.
As some of the best in the country, these national qualifiers are invited to showcase their talents and compete at the International Thespian Festival which will be held in June at Indiana University Bloomington.
The Midway Improv Troupe also won big at the state festival, taking home third place in the Improv Challenge out of 94 teams competing in Texas. To succeed in the Improv Challenge, troupes are required to demonstrate strong character work, clear scene development, and high energy in an unscripted performance.
Congratulations to the talented members of the Midway Improv Troupe who placed among the top three teams in the state: Darrious Bedford, Chuckie Castillo Jr., Leland Chiles, Davis Duncan, JoEllen Pittman, Troupe Leader Devontae Reyes, and Zach Williams.
In addition, three Midway Theatre students earned state honors from Texas Thespians. Kimi Clendennen was selected from a statewide pool of applicants to serve as one of ten Texas Thespian Advocacy Network Student Ambassadors to advocate and promote theater education in Texas. Cash Hayes has also been representing Midway as a 2022-2023 Texas Thespian State Officer, and Stella Davison was named to the Texas Thespian State Honor Crew.
The Midway High School Theatre Department is directed by Jill Wilkinson and David Wellbaum, whose support and encouragement allow Midway Theatre students to shine at state and national levels.