Six talented Midway Choir singers were recently selected for the 2021-2022 Texas All-State Choir.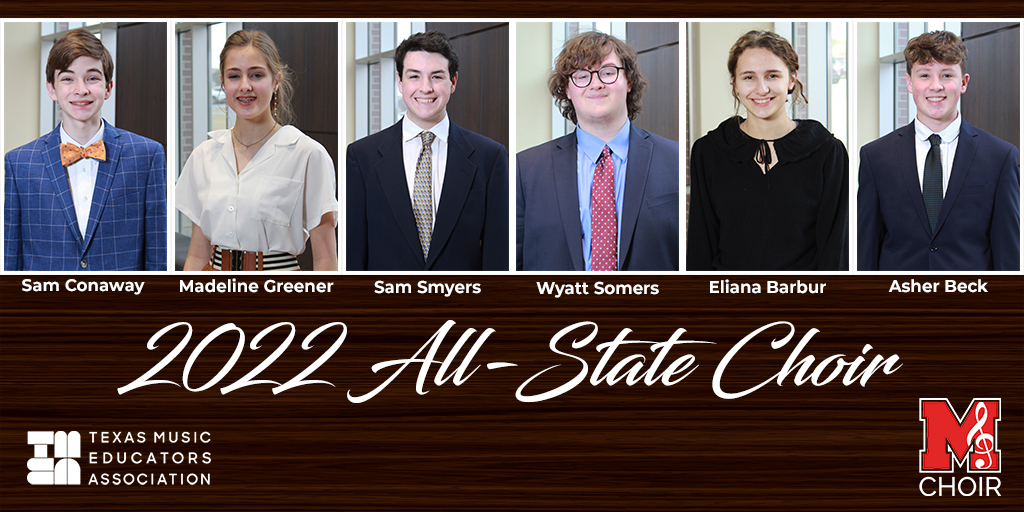 Congratulations to these outstanding musicians!
Sam Conaway (Freshman, Tenor 1)
Madeline Greener (Junior, Soprano 2)
Sam Smyers (Senior, Tenor 2)
Wyatt Somers (Junior, Bass 1)
Eliana Barbur (Junior, Soprano 2)
Asher Beck (Freshman, Tenor 2)
These students are all under the direction of MHS choral directors Jeff Rice, Jannifer Rice and Caleb Overstreet. Beck, Conaway, Greener, Smyers, and Somers are private vocal students of Dr. David Guess and Barbur studies privately with Ms. Kari Peden.
The Texas Music Educators Association sponsors the Texas All-State competition, and students who are selected for All-State music groups are invited to participate in three days of rehearsals directed by nationally-recognized conductors during the annual TMEA Clinic/Convention and perform for thousands of attendees to close out the event.
All-State is the highest honor a Texas music student can receive, and high school students selected to perform in the All-State concerts have advanced through several rounds of auditions to qualify at the state level. The competitive audition process begins with over 70,000 students from 33 TMEA Regions across Texas and ends with only 1,875 selected to perform in one of 18 ensembles.
To audition, individual musicians perform selected music for a panel of judges who rank each instrument or voice part. From this ranking, a select group of musicians advances from their region to compete against musicians from other areas. The highest-ranking musicians judged at the TMEA Area competitions qualify to perform in a TMEA All-State music group. Only the top 2.6% of musicians who initially audition become All-State musicians.
Visit www.tmea.org/convention for All-State concert schedules and additional information.