Dr. Clint Glaesmann, current CCE assistant principal, will replace Dr. Mandy Johnson as she transitions to Park Hill Elementary.
"Dr. Glaesmann is one-of-a-kind in his enthusiasm, energy, and communications," said Dr. George Kazanas, Superintendent. "His thoughtful planning combined with his pension for creative events fosters fantastic campus morale for students, staff, and parents alike. I believe he will continue Dr. Johnson's joyous philosophy while bringing forth new ideas and programs to progressively serve the CCE community."
Dr. Johnson will be working on staffing and planning for the new campus while Dr. Glaesmann takes over lead administration for Castleman Creek. Dr. Johnson will remain housed at CCE to assist with the full student population on campus and she will transition to Park Hill in August along with several hundred CCE students.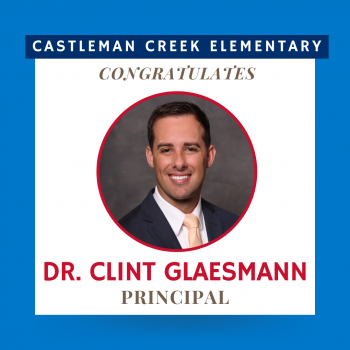 About Dr. Glaesmann
As an educator with 11 years of experience, Dr. Glaesmann has spent all of those years within Midway ISD and six of them as an administrator. His journey began with MISD in 1997 at South Bosque Elementary as a 3rd grade student, and as an alumnus of Midway High School's graduating class of 2007, he has a unique perspective as an administrator who knows what it is like to be both a student, teacher, and administrator in the district. As an educator, he has experience at every level in Midway. He started his teaching career as a sophomore English teacher at Midway High School in 2011. He has also served as Woodgate Intermediate's Instructional Technologist and as an assistant principal at both Castleman Creek Elementary and Midway Middle School. As an assistant principal, he helped Castleman Creek Elementary become one of 15 Apple Distinguished Schools in 2018 and also, through his weekly professional development for Baylor interns, helped lay the foundation for the campus being selected as a Professional Development School in 2020.
Dr. Glaesmann graduated from Texas A&M University with a Bachelor of Arts in English in 2011 where he also received his Master's Degree in Curriculum and Instruction in 2013. In 2020, he graduated from Baylor University with a Doctorate Degree in K-12 Educational Leadership. That same year he was also recognized as TASSP's Region 12 Assistant Principal of the Year and was also recognized as one of Waco's Under 40 honorees. Dr. Glaesmann was also a member of Waco's Leadership PLENTY's 10th cohort where he continued to grow as a leader and learn about the needs within the community. Clint is married to Joy Pfanner, a social worker in Midway's alternative school program. Together they have a son, Quinn.