Each year, Midway ISD recognizes individuals and companies as Friends of Midway in appreciation of their commitment and dedication to support Midway students and their education.
The 2020 Friends of Midway honorees are:
Aramark
First National Bank of Central Texas
Brazos Meadows Baptist Church
The Walker Family
These local individuals and businesses are being honored for their steadfast devotion and substantial donations of time, expertise and funding that contribute to improving our community's schools and enhancing education for all Midway students.
Midway ISD is grateful to these companies and individuals for their consistent service and voluntary support of education in our local schools.
The Friends of Midway award recipients were each presented with a handcrafted blown glass bowl in Midway colors created by art teacher Bob Rynearson.
Both Aramark and FNBCT are also being recognized as part of the Texas Association of School Boards Business Recognition Program. This program recognizes the service of businesses and organizations in their respective communities that contribute valuable support to school districts. Learn more about the TASB Business Recognition Program here: TASB Business Recognition Program.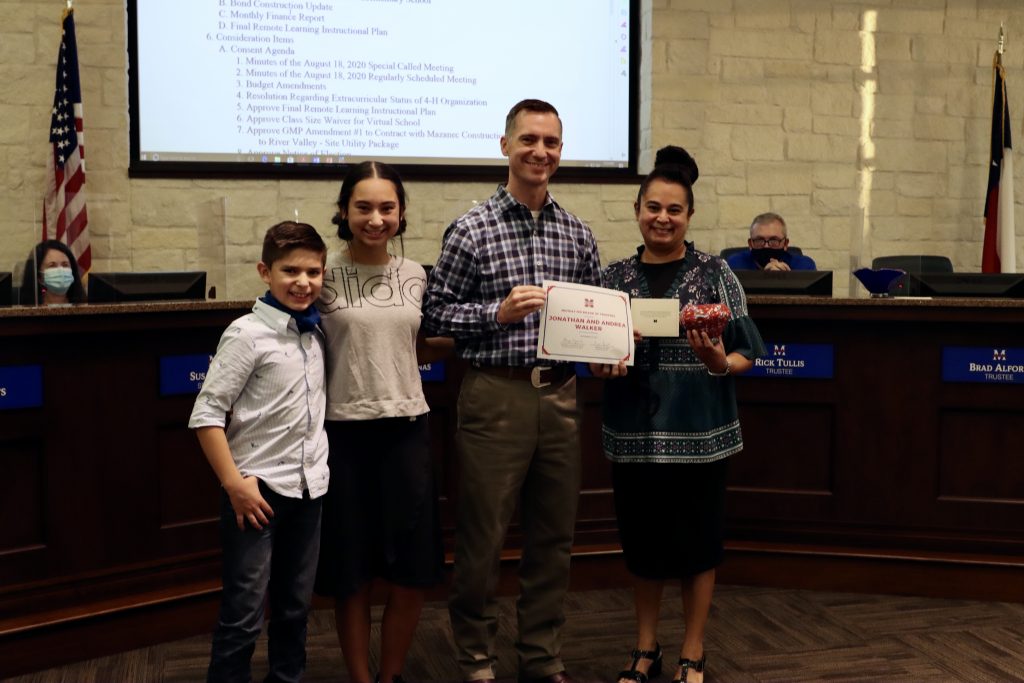 Jonathan and Andrea Walker:
Jonathan and Andrea Walker have been faithfully serving Speegleville Elementary for the past 10 years by helping in any way they can. From volunteering their time with Watch Dogs, Library Lords and Ladies, PTA, Rocket Program and Book Fair, to assisting with PE, Green Classroom helpers and Carnival, both Andrea and Jonathan are always ready to serve with a good attitude.
Andrea has been PTA president for two years, and has done yearbook for at least five years. They also have a daughter that attends River Valley Intermediate School and the same could be said of their service there. The Walkers are alway kind and caring in their support of our campuses, and Midway has truly been blessed by their efforts. They have proven to be part of the Speegleville family and will continue to be Friends of Midway for years to come.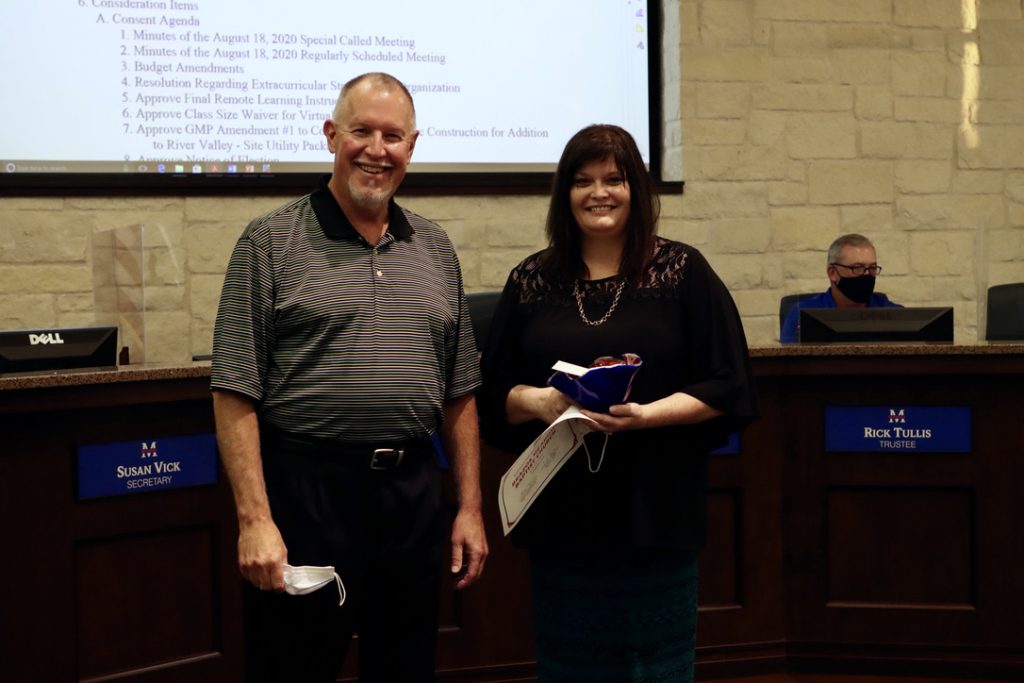 Brazos Meadows Baptist Church:
The faithful efforts of Brazos Meadows Baptist Church to encourage and provide for staff, students and families at Castleman Creek Elementary School is making a big impact.
Over the past few years, their development of a mentor program with many Castleman Creek students has grown into a successful, life-giving system. Brazos Meadows is deserving of this recognition because the selfless efforts they make to reach Midway students, faculty and families exhibit generosity beyond what a school district could ask or hope for from a church partner.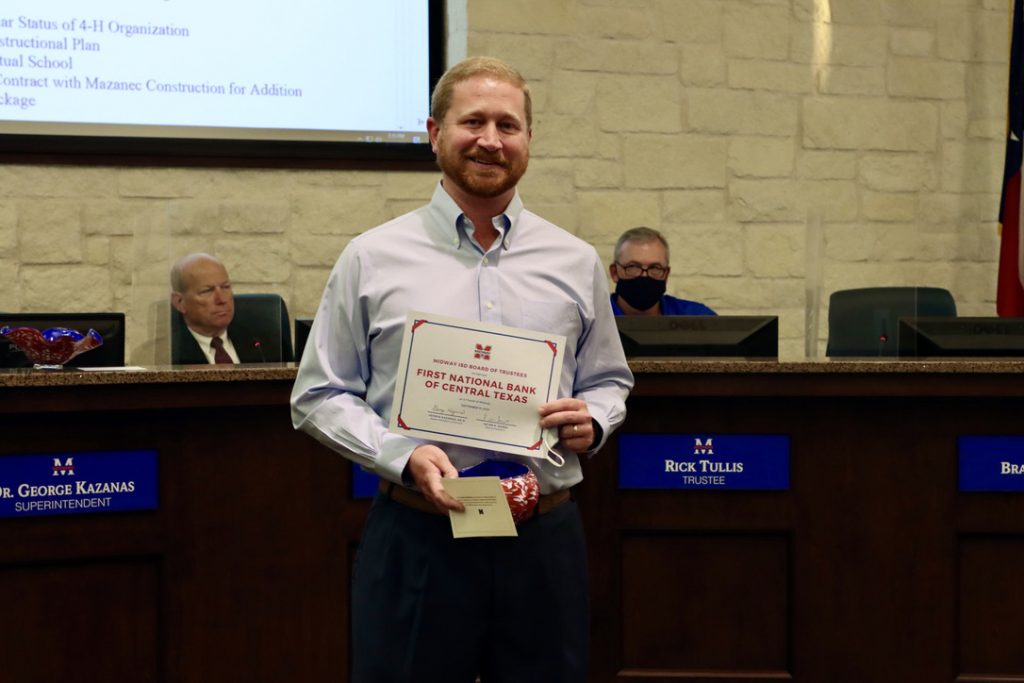 First National Bank of Central Texas:
For the past 14 years, the First National Bank of Central Texas has provided dedicated support to the Midway ISD Education Foundation through contributions to their annual campaign, and sponsorship of the Showcase of Stars academic recognition program and the MHS academic patch and letter jacket program. FNBCT also sponsors the Greater Hewitt Chamber of Commerce's Student of the Year program, which recognizes outstanding students from each campus.
Two FNBCT officers have served on the Midway ISD Education Foundation Board of Directors as well. Link Harris served three years as an Education Foundation director, and was joined on the MEF board of Directors by Russell Jones in 2020. Link Harris also served on the Midway Athletic Booster Club Board for four years, and was president for two of those years.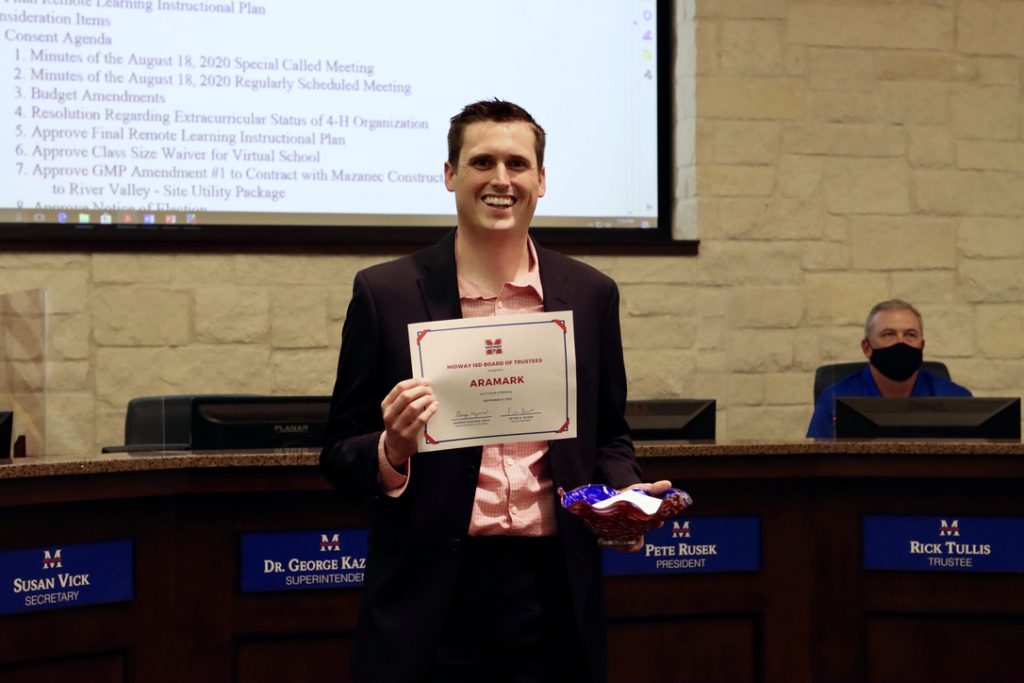 Aramark:
For decades Aramark has been a faithful partner in the education and care of Midway ISD students by providing nutritious meals to students and staff. In partnership with Aramark's Baylor Dining Services, Aramark has extended this support during the past 11 years to provide full service meals to over 300 attendees at the annual Midway ISD Education Foundation's Showcase of Stars academic banquet.
Recently, in response to the COVID-19 pandemic, Midway's Aramark team leaped into action within days of being notified about school closures in March. They displayed fortitude and perseverance as they worked to pack and distribute meals from multiple elementary campuses to children and families across the community, whether or not they attended Midway schools. By working with Midway's transportation department, this service was later expanded to include multiple apartment complexes and remote locations within the district to ensure that all children in the community receive the nourishment they need to thrive.
Aramark provided financial support for the Education Foundation for many years prior to underwriting the Showcase of Stars event, and has coached Midway secondary students in multiple cooking competitions in addition to initiating programs to encourage Midway students to try new foods.