National Board Certified Teachers (NBCTs) are teachers who have demonstrated they meet the profession's standards for accomplished teaching practice by successfully completing National Board Certification, an advanced, voluntary, professional certification designed to identify and recognize accomplished teachers.
National Board certification is used by districts and states nationwide to develop and retain teachers and to generate ongoing improvement in schools.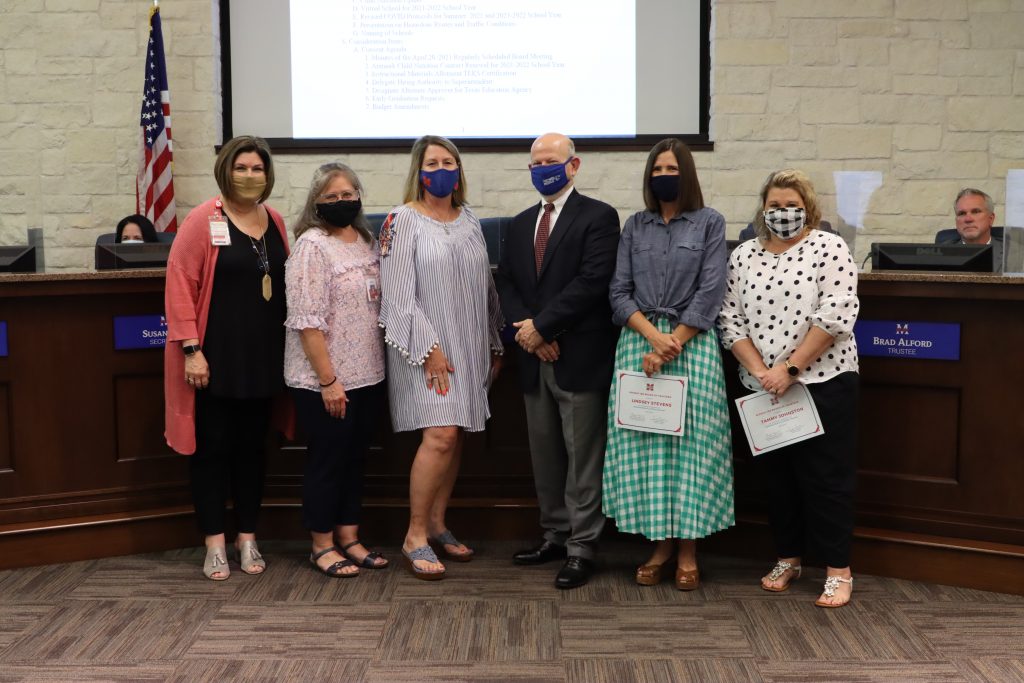 To achieve Board certification, teachers must submit evidence of the advanced knowledge, skills, and practices required by the National Board for Professional Teaching Standards (National Board) in the content area and student developmental level in which they specialize.
Written by committees of practicing teachers and other experts, these standards represent a consensus among educators about what accomplished, effective teachers should know and be able to do to improve student learning and achievement. Board certification is available in 25 certificate areas, from Pre–K through 12th grade.
On May 5th, Tammy Johnston and Lindsey Stevens participated in a virtual National Board Pinning Ceremony to recognize the successful renewal of their National Board Certification.
This ceremony was attended by teachers from across Texas to recognize new or renewed National Board Certified Teachers (NBCTs) in the State of Texas. The ceremony dignitaries included:
Peggy Brookins, President and CEO of National Board of Professional Teaching Standards,
Beto O'Rourke, former Congressman, and
James Talarico, TX House of Representatives,
along with other outstanding educators.
Midway ISD now has 6 NBCTs:
Tammy Johnston, moving to a 1st grade teacher position at Hewitt Elementary,
Lindsey Stevens, Elementary GT Specialist, and
Kathy Lentz, Librarian at River Valley Intermediate School.
TEA recognizes these accomplished teachers and each will receive a stipend from the state through the Teacher Incentive Allotment (TIA) as well as an additional stipend from Midway ISD. These 3 ladies will also be Teacher Leader/Mentors in the Midway ISD Cohort program to support other teachers who wish to pursue this certification. Midway ISD was awarded a Teacher Incentive Allotment Grant from TEA in the amount $20,000 to fund the work of cohort.
Other NBCTs in the district are:
Kathleen Minshew, District Mentor & Induction Coordinator,
Sheri Burns, Principal of South Bosque Elementary, and
Lorri Sapp, Director of Secondary Curriculum.