Midway ISD annually celebrates a teacher of the year at each elementary campus, and two teachers of the year at each secondary campuses. These 12 educators complete a rigorous process before the district's elementary teacher of the year and secondary teacher of the year are named. The district teachers of the year go on to compete in competitions that elevate to regional, state, and national levels.
Congratulations to the 2020 District Teachers of the Year: Castleman Creek Elementary's Mandy Ochoa and Midway High School's Vanessa Dulock!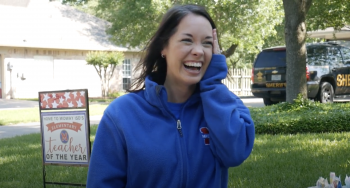 Sincere, empowering, passionate, impactful, and encouraging are a few words that describe MISD Elementary Teacher of the Year, Mandy Ochoa. After teaching first grade for 10 years, Ochoa is now the English as a Second Language (ESL) Facilitator at Castleman Creek Elementary.
Ochoa is also a "barrier-breaker"! She works to approach situations with creativity and innovation. Through her work with English Learners, she has become dedicated to helping develop a statewide newcomer program for immigrant families. For the past three years, Ochoa has worked hard to make her vision clear for the program. ESL supports English learners, their families, and classroom teachers. Ochoa's vision is inspired by Spanish teacher Maria Croft and elementary teacher Sandy Back. These role models helped her to appreciate other cultures and understand the importance of building relationships. Midway ISD is lucky to have Mrs. Ochoa!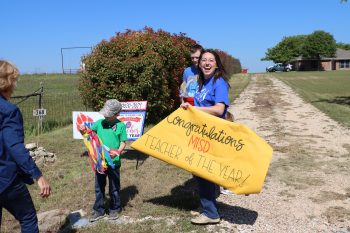 Vanessa Dulock is a one-of-a-kind teacher. Her focus is not solely on educating her students in the classroom, but it is also on preparing them for the real world.
"Vanessa has a genuine nature and passion for serving students. Her desire to serve others can be seen in everything she does in and out of her classroom. Her students know that she sees them as change-agents and people of immeasurable worth," according to a member of the Teacher of the Year interview committee.
Dulock sees the importance of building purposeful relationships with each of her students, and she does this with encouragement and positivity. At the beginning of each semester, Dulock focuses on positivity by requesting encouraging letters from all of her students' guardians. Weekly wellness checks and personal conversations with struggling students is a way she helps ensure her students stay mentally healthy. Dulock recognizes that students are not being taught basic life skills like changing a tire, what a healthy relationship looks like, or how to sew. She has organized an event, Panther Prep, as a way to teach those types of skills to her students and prepare them for their futures. Mrs. Dulock is doing a great job preparing MISD students for the future.