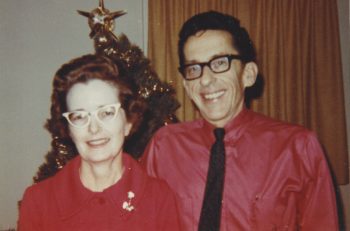 In today's world most are familiar with the phase, "It takes a village" to raise a child. But that concept is hardly new. In the 50s, 60s, 70s, and 80s this was epitomized by beloved Midway educators, Glynn Dell Ballew and T. Bennie Ballew.
After beginning their teaching careers in other rural Texas districts, they came to Midway in the 1950s when it was also considered a small, rural school. Due to health issues, Mr. Ballew would enter retirement in 1979 after 22 years in the district where he served as both teacher and later as Midway's curriculum director. Mrs. Ballew would retire from Midway ISD in 1981 with 39 years of service in the classroom. Following her service at Midway, she taught a few additional years at Bosqueville ISD.
But those numbers do not tell the story of these two individuals who gave their all to their profession and their students. English, math, physics, science, spelling, poetry, and business were not all these Central Texans taught. In both word and deed they taught the lessons of everyday life – manners, courtesy, friendship, and the importance of commitment and follow-through be it in sports, family life or a class. They, together with their counterparts, helped form the "village" that raised those lucky enough to be Midway students.
Educators have always faced challenges – be it with their students or with the resources needed to give those students the best education possible. When the Ballews began teaching there was no copier to mass produce classroom handouts or exams. There was no overhead projector or computer to supplement lectures. Technology had not arrived and times were certainly different.
When Mrs. Ballew first began teaching she had to arrive at school early before her students in order to light a fire to warm the classroom. In the early years at Midway she split teaching chores among eight grades in one building, hurrying up and down stairs to her next class. Her career began teaching commercial subjects such as typing, shorthand and math, but by the time she was ready for retirement she was teaching fifth and sixth grade English and spelling at Midway Middle School. Mr. Ballew was teaching the sciences until he transferred to an administrative position.
The Ballews always believed in their students and encouraged them to live up to their potential. Despite the passage of time, Mrs. Ballew continued to light a fire, but this time it was within her students.
One advantage of teaching for many years is witnessing the growth of students into adults. Several top Midway professionals were once their students. A few of note are former Superintendent Marvin Dameron, former Assistant Superintendent Wendell Battle, former Principal Sharron McKethan Zachry (a fellow award designee), and former School Board member Charlie Maddux.
• Rick Grimes, Class of 1970, wrote the following: "Midway alumni are fortunate to have been blessed by many very good and caring teachers. In my opinion, Mrs. Ballew is one of the best. She was very much the disciplinarian and insisted on all work being completed correctly at all times. In addition to the English, math, poetry recitation, and science, Mrs. Ballew taught us many lessons in life. Through her disciplined teaching style, she made quotations that are considered clichés, such as, "A job worth doing, is worth doing well…" Her professionalism, dedication and the spirit in being a model for all to follow were most remembered by me. Her attitude in learning, education and loved for the students in her own way were absolutely a stand up job."
• "Throughout junior high and high school, at the end of every six weeks, a few of us would take our report cards and go to Mrs. Ballew's classroom for her "evaluation" and comments. She always encouraged us to do our best and chided us when she knew we were capable of doing better. The fact that seniors in high school still stopped by her classroom at the end of each grading period says a lot about what she meant to us even years later. We knew that she had high expectations of us – and we knew that she cared…she was responsible for many important lessons in my life…writing skills, learning about friendship, and demonstrating the delicate balance between caring and high expectations." – Deborah J. McCormick, Ph.D
• Just loved this pair! She taught me so much (including manners) & I respected her so much. Benny was fair and concerned for all students. Good memories! – Sharon Sorrells
• "I'm pretty sure this was 9th Grade Homeroom right before lunch and Mr Ballew made sure we kept mayhem and other mischief down to a minimum. We all thought of him as a no nonsense kind of guy especially to a bunch of know- nothing freshmen!!! Well one day right before we were to make our way to the lunchroom he walked into the class and we all looked up expecting him to give us the OK to head to the Cafeteria. He calmly walked to the blackboard and picked up a piece of chalk and in all Caps wrote "SKWEET" and walked out of the room. About 10 seconds later he came back in, shrugged his shoulders, "Let's go Eat" very slowly and repeated the above term!! We all burst into laughter and SKWEET became the heads up call for the rest of the year!!! I never questioned that this wonderful Teacher was lacking a Sense of Humor again!!!!!" – Frank (Pancho) Maddox, Class of '66
At her retirement in 1981, Mrs. Ballew reflected on the expansion of the Midway district during her tenure. "…growth of the district has changed the school and the students. Parents were more supportive when the school was smaller", she said. Methods changed and to some extent she followed the trends in education. Except when it came to English. She never changed over to linguistics. " I don't care. Whether it's English or whatever, you've got to give them their foundation."
Maybe she was rebel before her time.
But with mild criticism also came high praise for the Midway district. Mrs. Ballew often remarked that though Midway schools were not perfect, she was sure they were the best in the state. And these two educators did not just repeat the party line. Mr. and Mrs. Ballew so believed in the caring atmosphere and academic excellence of Midway Schools that they transferred their son, Travis, from the Waco district where they lived, to Midway. That move proved to be of utmost importance in their lives. Upon graduation in 1964, Travis was the first Midway graduate to be accepted directly into the Ivy League world of Harvard where he later graduated cum laude.
Similar excellent teachers and administrators like the Ballews have not relaxed the standards and expectations of the Midway District in the intervening years and continue to bolster and encourage their students to achieve their life goals.
The fire is still lit within the students.
Mr. Ballew passed away 1982 and Mrs. Ballew in 2013. Son Travis and family reside in Ohio.
The Ballews and other distinguished service honorees will be recognized on Sunday, October 22 at 2PM in the Midway Middle School Cafeteria. The event is free and open to the public. Those wishing to make honorariums to the Midway ISD Education in honor of one or more of these recipients may do so and write a tribute at https://edbacker.com/c/honor-our-distinguished-service-recipients.