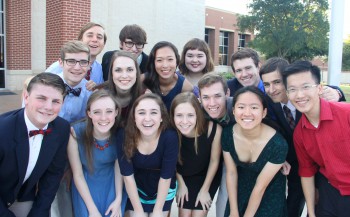 Midway High School students have a legacy of outstanding performance in standardized testing, ranking above both state and national averages on both the SAT and ACT. This year's seniors are no exception. Fifteen students –the most in Midway High School history–have received notice of recognition through the National Merit Program. Congratulations to the following outstanding scholars!:
Christopher Joseph Curry was named a National Merit Semifinalist for his score on the PSAT test, scoring among the top one percent of the more than 1.5 million students who took the exam to earn the distinction. He continues on in the scholarship competition, which will announce its finalists in February. Chris is the son of Philip and Aimee Curry of Woodway. Chris is a member of 2014 and 2015 TMEA All-State Choirs, an AP Scholar, NHS President, and earned National Spanish Exam Bronze and Silver Medals. He is involved in PALs, NHS, Student Council, Choir and FCA. He plans to attend either Stanford University or Texas A&M University to major in Mechanical Engineering and acquire an MBA.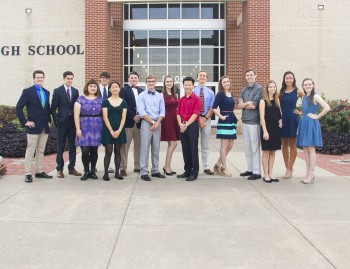 An impressive fourteen Midway High School students were named National Merit Commended Scholars, ranking in the top five percent of the nation:
Mia Katherine Ayer is the daughter of Chris and Kae Ayer of Waco. Mia competed in the UIL State Golf Tournament and is active in National Honor Society. She is receiving an athletic scholarship to play golf at the University of Notre Dame, where she plans to major in biology.
Andrew CJ Bender is the son of Kimlyn and Trudy Bender of Woodway. Andrew is a finalist in the national Mathcounts competition in Orlando, Florida, and the 3rd place finisher in South Dakota state Mathcounts competition. Upon graduation, Andrew plans to attend Baylor University and major in mathematics.
Bruce Chang-Gu is the son of Tian Gu and Baochong B Chang of Woodway. Bruce is a National Chemistry Olympiad Finalist, Final 16 at the UIL State Debate Tournament, he qualified for NCDA (national debate tournament), and was Final 16 at both Grapevine and St. Marks national debate tournaments. He is actively involved on the Midway Debate Team, UIL Science, Varsity tennis (three years), and National Honor Society. Bruce plans to major in chemistry and/or biology in college.
Mattie Marcell Green is the daughter of Trey and Leigh Anne Green of Woodway. She is a National French Exam award winner, AP Scholar, and earned MHS Teacher Recognition and Panther Pride. She is active in French Club, MPact, National Honor Society, STARS club mentor, and Antioch Community Church Youth Group. Upon graduation, Mattie plans to study engineering at Harvard, MIT, or Rice University.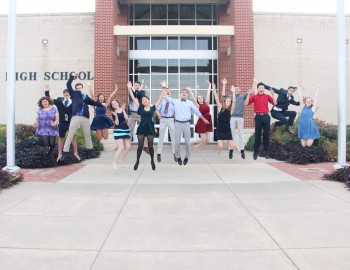 Anthony D. Hejduk is the son of Matt Hejduk and Julie Hejduk of Woodway. Anthony won the Waco Habitat for Humanity Student Volunteer of the Year Award, placed 5th in state on the MHS Mock Trial Team, was rated Superior at Texas State Solo and Ensemble, and earned Wordwright Highest National Honors and AP Scholar with Distinction recognitions. He is involved in Meistersingers and Chambersingers Choir, Church Chant Choir, Midway Musical Theatre, NHS, and Academic UIL. Anthony plans to attend Princeton or Duke University and possibly major in Philosophy.
Yuchen "Wendy" Hua is the daughter of Zhiping and Richard Gold of Waco. In addition to National Merit Commendation, Wendy is in National Honor Society, Orchestra, Business Professionals of America, and Student Council. Upon graduation, she plans to attend a four-year college.
Emily Noelle Ikeda is the daughter of Michele and Tom Ikeda of Hewitt. Emily has earned academic letter patches as well as teacher recognition for Global Business class. She is active in Band, National Honor Society, and Business Professionals of America. Upon graduation, Emily plans to possibly attend UCLA and major in psychology or sociology.
Austen Grant Kaul is the son of Grant and Corina Kaul of McGregor. Austen is an Eagle Scout, earned Panther Pride Teacher Recognition, Spirit of Midway Award, and his academic patch and letter jacket. Austen is active in Boy Scouts of America, Fellowship Bible Church Youth Group, National Honor Society, Spanish Club, and Business Professionals of America. He plans on attending University of Texas or Texas A&M to study biomedical engineering.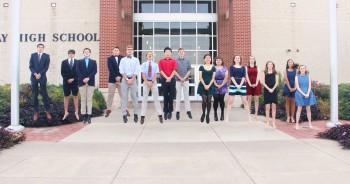 Brendan Michael Kearney is the son of Christopher and Virginia Kearney of Waco. Brendan won 1st Place in the Robotics Regional Science Fair 2010 and 2011, 2nd Place Overall Regional Science Fair 2010, and the Water Polo Regional Championship in 2014. Brendan is on the Varsity Swim Team an d Water Polo Team, and is in Business Professionals of America, National Honor Society, and Fellowship of Christian Athletes. Upon graduation, he plans to attend Baylor University and major in Mechanical Engineering.
Elyse Christine Meyer is the daughter of Chris and Stacey Meyer of Hewitt. Elyse is an AP Scholar and is in both National Honor Society and National Spanish Honor Society. She is active in Band, NHS, and Spanish Club. Upon graduation, Elyse plans to attend Baylor University and major in psychology.
Duncan Nichols Russell is the son of Delisa and Michael Russell of Woodway. Duncan is an Eagle Scout and President of the Philosophy Club. He also participates in Varsity Debate, National Honor Society, American Legion Riders, and Powerlifting. Duncan plans to attend West Point, the US Naval Academy,  or University of Texas.
Emily Catherine North is the daughter of Charles and Rebekah North of Waco. She is the Vice President of Thespuan Troupe 4770, a Student Council Officer, on the Spirit Committee for Goal Tenders, and she is Student Director for the school musical, Mary Poppins. She is in Panther Players, Goal Tenders, Student Council, MPact, and National Honor Society. Emily plans to attend either Baylor University, Duke University, or Vanderbilt University.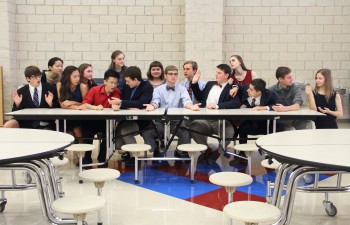 Allison Joy Overpeck is the daughter of Todd and Julie Overpeck of Hewitt. Allison is a state medalist at the Visual Arts Scholastic Event 2015 and a scholarship winner in 2014 Reflections contest, visual arts division. She is involved in the Midway Camerata Orchestra, Highland Baptist Church Student Ministry, Central Texas String Academy, and National Honor Society. She plans to attend Virginia Commonwealth University and major in Communication Arts.
Matthew Quincy Parsons is the son of Heidi Hornik-Parsons and Mikeal C. Parsons of Woodway. Matthew is an AP Scholar, Gold Medalist in National French Exam Level 3 and National Spanish Exams Levels 1 and 2, is a Texas All-State Soloist and All-State Woodwind Quartet, was named Outstanding Soloist in Dallas Meyerson, is a Tanglewood Music Institute Alumnus, and was a Top Gun National Mock Trial Competition Nominee. He was on the All-State Mock Trial Team twice (5th in State), in the Songs for Seniors Club for Musical Charity, Baylor Youth Wind Ensemble, Student of Dr. Qian, Baylor Professor of Clarinet, Clarinet and Piano Performance, and is the Clarinetist of St. Jerome's Choir. Matthew plans to attend an Ivy League institution to study Biology, Linguistics, and Music.