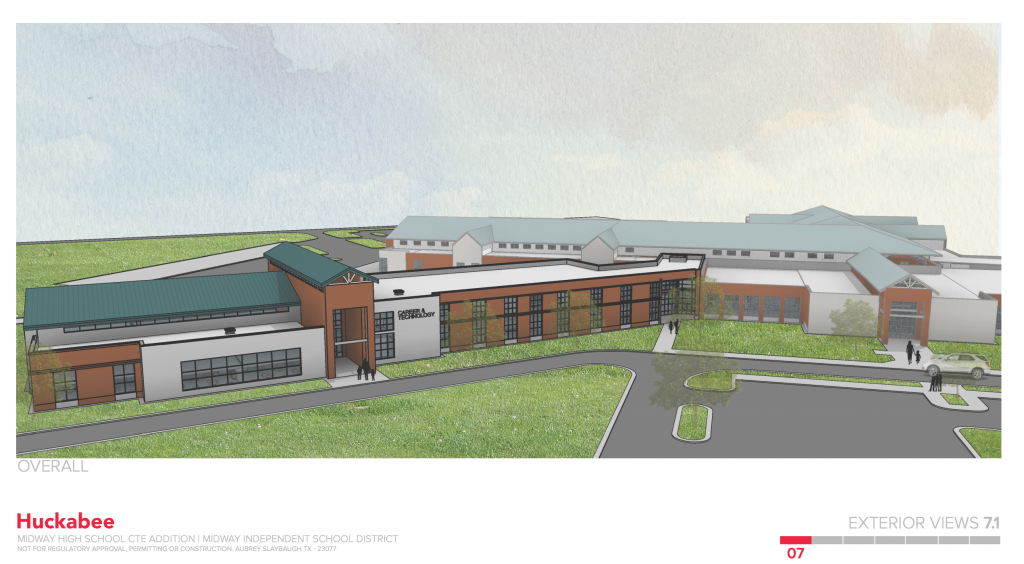 After piecing together general concepts with Career & Technical Education students and staff, Huckabee Architects are bringing a final draft floorplan to the MISD Board of Trustees this May.
Major highlights of the new facility's facade include an exterior that compliments and balances Midway High School's half-hexagonal front drive. A center portico matches the campus's main entrance as well as the auditorium entrance in the fine arts wing.
The new wing is planned to be one and a half stories, directly connected on the first and second floor by the library. The first story will include a multipurpose meeting room that can be used campus-wide, engineering and computer science labs, and a biomedical/health science area. The biomedical area will be separated and designed to mimic a hospital environment. The second story will include visual arts classes. Nearly every classroom is set up as a hands on lab environment, and common areas are designed for collaborative use.
Additionally, the expansion of the current Agriculture Science building will consist of a welding shop and new classroom spaces to include Veterinary Medicine.