By Kaitlin Morley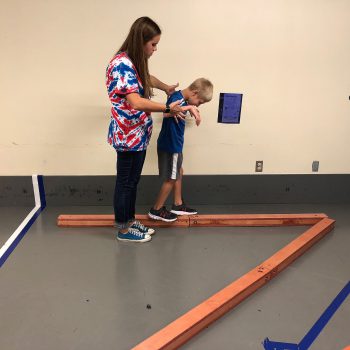 "It's time to go to the motor lab!" Ms. High's new favorite phrase.
The motor lab means a 25 minute break from the normal classroom setting. Instead, the students get to play with bouncy balls, stretch, practice breathing techniques and so much more.
The curriculum implemented in the motor lab is called Ready Bodies Learning Minds. It was made possible through a grant provided by Midway's Education Foundation and named in honor of Brian Townley.
Emily Nelson, Elisabeth High and Marianne Anderson, special education teachers for Midway ISD., requested this grant in order to implement both body and mind techniques in their classroom to help their student's academic performance improve. Although it seems all fun and games in the motor lab, the students are actually actively building, maintaining and altering cognition.
The grant was awarded in January 2018 and is currently being used in Spring Valley and Hewitt Elementary Schools. Nelson, High and Anderson hope to extend the curriculum to other schools and grade levels because it has been so beneficial to their students. Not only has it helped with students' academic performance, but also with their basic classroom functioning and social interaction skills.
On a typical day, the students in Ms. High's class start their time in motor lab with basic warm up exercises. After warm ups, they go to each station in groups of two or three. Here, they complete different sensory activities. The grant provided for not only the curriculum but also the equipment that is used at each station; bouncy balls, jump ropes, tunnels and spinning boards. Once all of the students have completed each station, they take the last few minutes to practice breathing exercises and unwind before exiting the lab and continuing on with normal class time.
"After participating in Ready Bodies, students were ready to come back into the classroom with calm minds and bodies ready to complete different academic tasks. Academic growth after putting this program into place was substantial. For example, in one self-contained classroom, students increased their F&P reading placements by up to four reading levels since implementation," Nelson reflected.
This new curriculum will positively impact both students and teachers. Of the two elementary schools that are implementing the program, there are 83 special education students and nine teachers. The special education teachers want to use this curriculum as early as possible so it will become a routine in their education. The earlier it is implemented, the more adapted the students will be and the better their results from the program will be. As more campuses adapt the curriculum, the district can include training each year on how to successfully integrate it into their class time.
After the students have completed their 25 minutes in motor lab, they head back to their desks with ready bodies and learning minds.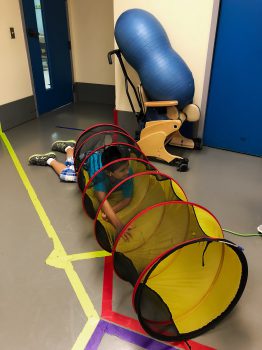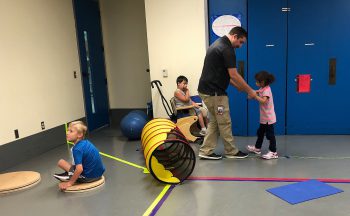 The Education Foundation supports the Grants for Great Ideas and Grant Express Programs through general donations. To contribute to this program, visit the website at www.midwayisd.org/foundation or call their office at 254-761-5614.