Brooke Burns, PR Intern at the Education Foundation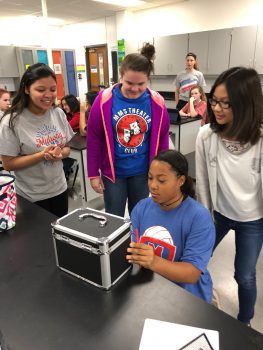 The 8th grade students at Midway Middle School are being immersed in a new way to review for upcoming tests. In order to win a bonus point on a test or candy, the students have to crack open the code on the lock. The only way to crack the code is to answer a review question over science material they have learned. This grant is another innovative way for the students to review and prepare for upcoming tests and quizzes while having fun in the process.
"The benefit that our students will gain by having access to these boxes is the ability to make learning a fun game. They are engaged, driven and excited—all about learning. That alone is so beneficial to their engagement and overall mastery of the material at hand," Stephanie Long said.
Stephanie Long, 8th grade MMS science teacher, requested the $424.75 grant sponsored by the Education Foundation in order to give her students the opportunity to review material through a fun and competitive game. The grant includes 25 Vaultz locking personal security boxes. Prizes for cracking open the lock boxes include candy, small rewards, or bonus points on their tests. Once the students answer all of the questions, they add the answers up to make their three-digit code that would open the box for their prize. Stephanie Long created unit reviews for the science department and gave them to her colleagues to also use in their classes.
"Students really love playing these games and cracking the code on the boxes. Not only are prizes and candy involved, but they get a great review on the unit or subject matter; sometimes without even realize it. They are able to collaborate and communicate with their peers, self-evaluate their subject knowledge and have fun while doing it," Stephanie Long said.
There are many different benefits to the lock box review games. These benefits include working toward a common goal and collaborating with fellow students. The students are able to work together in order to solve the clues and ultimately crack open the lock box. This is a new way to review for upcoming tests, benchmarks, as well as for the STAAR.
"These games, made possible by the lock boxes, are intended to lead students through a comprehensive review and allow them to see what they are best at, and also what they need more help with. They are also engaging in healthy competition, collaboration with peers, peer tutoring and communication. Overall, the students are reviewing information they need to perform well on a test or benchmark, helping those around them, and engaging in the 4C'S, all while earning prizes," Stephanie Long said.
The Education Foundation supports the Grants for Great Ideas and Grant Express Programs through general donations. To contribute to this program, visit the website at www.midwayisd.org/foundation or call their office at (254)761-5614.