By Brooke Burns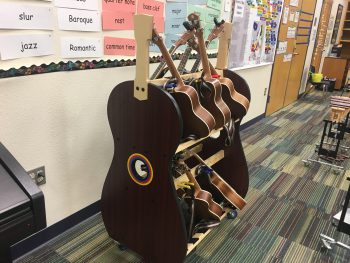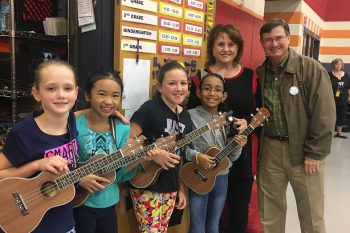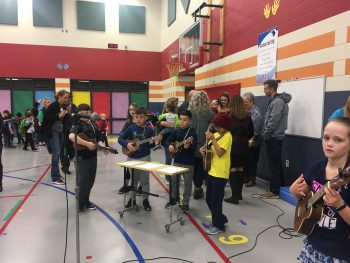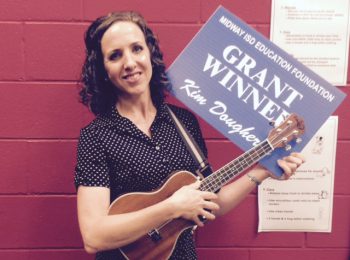 Learning to play a musical instrument at a young age has several benefits that include improving memory skills, creating a sense of achievement, improving reading and comprehension skills, improving social skills, and more. For the 3rd and 4th grade students at Castleman Creek Elementary school, they have been given the opportunity to learn how to play ukuleles by a $900 grant provided by the Midway ISD Education Foundation and named in honor of Phil and Betsy Reeder.
"We were excited to find a great way to introduce young musicians to the joy of creating their own music, and also teach them lessons that will benefit them in other parts of life and education. Learning and mastering any musical instrument requires perseverance and commitment. These are qualities that will benefit these students whether or not they continue with music" Betsy Reeder said.
Being able to perform with a small ensemble helps foster relationship skills, musical skills and also develops students' confidence. Music can benefit all areas of an individual's life and helps develop important life skills that can be used in every circumstance.
Kim Dougherty, K-4th grade music teacher at Castleman Creek Elementary school requested ten Lohanu concert ukuleles to start a ukulele club. The ukulele club meets every week for eight weeks during each semester and is only available for 3rd and 4th grade students. At the end of the semester, the ten students will perform for their families. In the ukulele club, they learn basic strumming and music theory.
The ukulele club has ten students per semester and will recur each semester yearly. This club helps to extend the music experience beyond the elementary music classroom experience. This club also helps to promote social skills, where students have to work together in order to collaborate on a certain ukulele club.
"Castleman Creek students are excited about exploring and learning a new instrument that is not available during the school day. Club members came with smiles on their faces each week and were sad to see our meetings come to an end," Kim Dougherty said.
This club provide some of the students' favorite times of the semester, where they receive the chance to learn a new skill while learning to play fun songs on the ukulele. During the Spring 2018 semester, the students learned to play several traditional folk songs using one, two and three chords during the club's weekly meetings. During their performance, they played "Rain, Rain"; "It's Raining, It's Pouring"; "You are My Sunshine" and "Lime in the Coconut."
"My favorite part has been seeing their continued excitement to play. Three of the club members have purchased their own ukulele to play at home. The club is a great extension to the music class learning and it has been another avenue to encourage life-long music making" Kim Dougherty said.
These 3rd and 4th grade students are given the opportunity to take part in a unique experience, where they learn how to play musical instruments. Learning how to play a musical instrument will not only aid them in the music area, but will also help them develop skills socially and mentally that they can use for the rest of their lives.
The Education Foundation supports the Grants for Great Ideas and Grant Express Programs through general donations. To contribute to this program, visit the website at www.midwayisd.org/foundation or call their office at (254)761-5614.