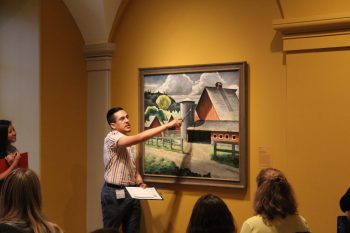 Midway Teachers Turn Summer Learning into Teachable Moments
by: Courtney Jerkins
The summer is a time to rest, relax, and travel. But, this past summer, teachers throughout Midway spent their time "off" preparing for the 2018-2019 school year. In June and July, Midway's dedicated teachers were setting up classrooms, planning for instruction, and attending professional learning conferences throughout the country.
One MISD summer learner is Mr. Blake Olvera, who teaches social studies at Midway High School. Mr. Olvera was selected to participate in the S.A.A.M Summer Institute: Teaching the Humanities Through Art. The 5-day program was held at The Smithsonian American Art Museum (S.A.A.M) in Washington, DC. During his time there, Mr. Olvera learned strategies to integrate American art with social studies and English/language arts. He even created a lesson using a famous American painting.
Mr. David Ezzell, who teaches 8th grade math and Algebra I at Midway Middle School, attended the Teacher Innovator Institute. This two-week institute was hosted by the Smithsonian National Air and Space Museum. After learning strategies to incorporate more Science, Technology, Engineering, and Math (STEM) activities into instruction, Mr. Ezzell is working to "foster enrichment, build mathematical fluency, and promote problem solving across disciplines." He also plans to work with members of the community to establish a STEM mentorship group for middle school girls. And, along with his new skills and goals, he had the chance to hobnob with Bill Nye the Science Guy.
Mrs. Morgan Castillo teaches 5th grade science at Woodgate Intermediate School. She attended the American Geosciences Institute/ExxonMobil STEM Teacher Leadership Academy in The Woodlands, Texas. Reflecting on her time there, Mrs. Castillo says, "The 5-day academy provided us with a strong foundational knowledge in the Earth sciences using practical, hands-on classroom activities. We heard from Sally Jewell, former U.S. Secretary of the Interior, as well as geoscientists of various fields. The Academy prepared us to serve as leaders facilitating professional development at the local level among our peers, further strengthening STEM and Earth sciences in the elementary classroom."  She plans to make science presentations that can be used by Midway's elementary teachers and students during science instruction this year.
Mr. Mikal Klumpp also teaches 5th grade science at Woodgate. Mr. Klumpp and Mrs. Castillo were both selected to participate in Baylor's Wetland Environmental Academy. They spent four days with a group of educators from all around the region studying water quality at the Lake Waco Wetlands. The experience was funded by a grant from the Environmental Protection Agency, aimed at arming teachers with tools to increase environmental awareness for their students. Mrs. Castillo and Mr. Klumpp left with new ways to engage students, and they were featured on KWKT Fox 44 and in the Waco Tribune.
Mrs. Jennifer Gibson, another 5th Grade science teacher at Woodgate, was awarded the Vernier Emerging Science Education Leader Scholarship. This scholarship was designated to send science educators to the National Science Education Leadership Association's (NSELA) Summer Leadership Institute in Philadelphia, PA. Mrs. Gibson was the representative for Region D, which included TX, OK, NM, AZ, UT, CO, and all of Canada and Latin America. She heard from leaders in the field of education, including Rodger Bybee, the father of the 5E instructional model. Thinking on her experience and the importance of STEM education, Mrs. Gibson says, "Many educators focus on being sure that students 'get the right answer' and forget that the process of 'getting there' is just as important. It is our job, as educators, to help spark an interest in the field of science in each of our students. If we can make the smallest of concepts seem incredible, we can capture the minds and excitement of our students." This school year, Mrs. Gibson will incorporate "various instructional shifts in science and language that can promote learning for all students, especially English Learners."  She will also be working with a lead mentor from NSELA "to help create highly effective learning opportunities for our students!"
Midway educators are lifelong learners who energetically pursue professional learning opportunities. They bring their experiences back to their classrooms to engage our students in innovative ways. MISD teachers make it their business to transform their learning into teachable moments that lead to student success. Our devoted teachers are one reason why there is no place like Midway!