Midway High School will celebrate the installment of its CONNECTlabs, new innovative learning spaces, with a ribbon cutting event at 4 p.m. March 12. The labs provide a collaborative and active learning environment where teaching and learning can flourish.
After researching students' use of lockers, Midway ISD recognized that its students generally carried their personal belongings from class-to-class in their backpacks and used school-issued iPads to access their textbooks. The school then transformed two locker banks into CONNECTLabs, a space for collaborative learning.
Through funding from Midway ISD Education Foundation's Grants for Great Ideas and a grant from the Arconic Foundation, the labs became a reality.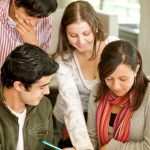 The foundation's Executive Director Suzi Pagel said, "Collaboration and/or teamwork are identified as some of the most sought after soft skills in the workplace. Through the CONNECTlabs, we'll have an enhanced ability to prepare our students for the next chapter of their lives, where teamwork and collaboration will be critical."
The space includes flexible seating, technology for virtual communication and media creation, marker boards, writable glass and videoconferencing. Teachers have more flexible in creating lectures for the labs.
Brandy Farquhar, a 10th grade pre-AP English teacher, said, "The tables and set up helped foster creativity. The students were encouraged to collaborate and were more engaged in the lesson."
The ribbon cutting ceremony will reveal the space to the public and light refreshments will be served to guests.
All high school students and teachers have access to this area to allow for cross-curricular and interdisciplinary learning. Midway High School's CONNECTlabs allow students to connect with each other, build critical thinking skills and develop creativity.
Founded in 2001, The Midway ISD Education Foundation seeks to enhance the quality of education for students by raising funds to provide learning tools, programs and projects. The foundation is a 501(c)(3) non-profit organization and receives aid from alumni, parents, teachers and community members. Midway Education Foundation has awarded over $1 million in grant rewards to teachers to create an innovative learning environment for students. For more information, visit http://www.midwayisd.org/foundation.