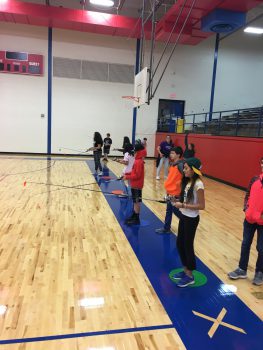 by Juliann Riggin, MHS Independent Study in Journalism Student
Middle school physical education teacher Jonathan Cofer recently received a grant for a fishing education tool called Backyard Bass, a set of plastic fish that serve as targets for novice fishermen to use in his outdoor adventure class.
The seventh grade students in the outdoor adventure class learn how to do various outdoor activities, including starting campfires, putting up tents, and fishing, rather than participating in a traditional P.E. class to receive the required athletic credit. However, because this is a non-traditional class, Cofer has to get creative when he comes across problems, such as inclement weather during a unit that has to be outdoors. That's where the Backyard Bass comes in.
The Backyard Bass is an assortment of various-sized plastic fish and hoops that give students a life-like practice session of aiming their fishing rods. Students can practice inside a gym, outside in the grass, or even in an actual pond or lake. This allows students to still learn in inclement weather, helping them to perfect their accuracy and distance when casting. According to Cofer, by utilizing these targets, the students learn hand-eye coordination and patience, along with the lifelong skill of fishing. Students still receive the satisfaction of catching a fish, while not having to face the danger of sharp hooks flying through a middle school gym.
When he learned that he received the nearly $1,000 grant, Cofer said that he was very excited for both himself and his students.
"On the first day we had it the kids were excited," Cofer said. "They loved using it."
Many students at the middle school have already used the Backyard Bass, including the Partners P.E. class, a class where special education students get to participate alongside PE students. Overall, students love to practice
with it, saying that it is fun and helpful.
The Backyard Bass cost a total of $918.45, which included the fishing rods, the fish targets, hoop targets, and storage.
Cofer said that although he just wrote the grant for his class, everyone is welcome to use the materials, including the high school outdoor adventure class, which does similar things as the middle school.
To learn more about the Midway ISD Education Foundation, please visit www.midwayisd.org/foundation.