Flexible seating options and collaborative learning stations are transforming education, and the Midway ISD Education Foundation is a driving force behind providing the necessary tools to enhance these educational strategies at Midway ISD.
Through the Grants for Great Ideas and Grant Express programs the Education Foundation is providing funds for teachers wishing to implement these two educational trends in their classroom. Flexible seating options can include bounce balls, stools, and other unique furniture that is far different from the desks and the desk rows that I remember from my school experience. Through the Education Foundation grant programs, teachers have been able to request different types of seating. As a district, Midway is learning more about the possible options for flexible seating and how to evaluate their effectiveness.
The ability to collaborate with others and work as part of a team are soft skills most sought out in the workplace, and Midway ISD recognizes the importance of giving our students the opportunity to participate in group learning projects. In 2015, the Education Foundation provided $8,690 to remodel a workspace into a collaboration lab at Woodgate Intermediate School. Flexible seating, moveable tables, and computer monitors mounted to the walls allow students to work in different-sized groups and move from one station to another as groups form and regroup to work on solutions through assigned topics. Table with whiteboard tops allow students to sketch out ideas on the tabletops, then photograph the writing with their iPads for future reference. Imagine having permission to write on the tabletops!
Perhaps one of the biggest surprises to some is that some locker banks built into the "new" high school constructed in 2003 are no longer needed. Now students can keep any school-issued textbooks at home and use the classroom copy of the textbook or their iPad access during class. Most students carry around their personal belongings from class to class in their backpacks and choose not to use assigned lockers. Two locker banks upstairs at Midway High School are being removed, with plenty of lockers still available for those who request one.
These two locker banks at the high school are being transformed into "CONNECTlabs" thanks in part to a $25,000 grant from the Education Foundation and a $20,000 grant from the Arconic Foundation. Flexible seating furniture in these areas will allow fluid transition between multiple teaching modes and allows the instructor freedom of movement, frequent interactions with students, and ongoing opportunities for assessment. Classes will be able to meet in these collaborative learning areas to work on group projects that will provide them with the ability to prepare for the next chapter in their lives, where teamwork and collaboration will be critical.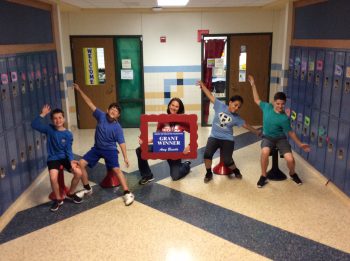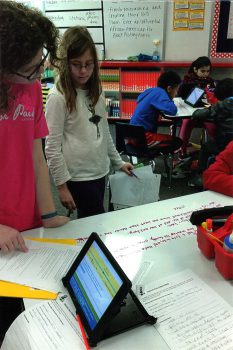 You can be a part of this transformational process by supporting the Grants for Great Ideas and the Grant Express programs of the Education Foundation. The organization is currently raising funds for these programs through the "I'm Invested" annual campaign. Visit our webpage at http://www.midwayisd.org/foundationto see how you can help continue to inspire and support the students and teachers of Midway ISD.