By Michelle Morrow, Independent Study in Journalism Student
Over the years Midway ISD Education Foundation has given many grants to Midway High School departments. This year the Midway ISD Education Foundation provided a grant to Kasha Gorham, teacher of Forensic Science.
This grant provided facial reconstruction kits to the classroom, allowing students to be able to reconstruct the faces of King Tut and Queen Nefertiti. Before this grant, students could only watch videos on the activity without full grasping the importance of such a kit. Now students can fully understand the importance of studying faces from the past.
Gorham has won three other grants during her 13 years at Midway. In 2014 she was awarded about $400 for a Ballistics Kit & Tool ID Kit, in 2015 she was awarded $1,500 for a comparison microscope, and in 2017 she was awarded $2,600 for eight Digital LCD Microscopes. With this current grant she was given about $250 for 24 facial reconstruction models.
These new kits had the students create a facial reconstruction of faces from the past with clay. The students were able to compare the differences for past and present faces giving the students a better grasp on forensic anthropology, a class standard required by the state, Gorham said.
"The models and clay are reusable," Gorham said, "so I will be able to use them for years to come."Gorham added she has "wanted a way students could get a hands-on experience with the topic and found models that could be used to achieve this" inspiring her to apply for this grant
When she was told she had won the grant Gorham said she felt excited, but she wasn't the only one. Her students were excited to try a new experience and even started a "friendly competition about whose model would be voted the best model in the class," she said.
These kits have given students that opportunity and have allowed them to experience forensic science in a way they have never had before.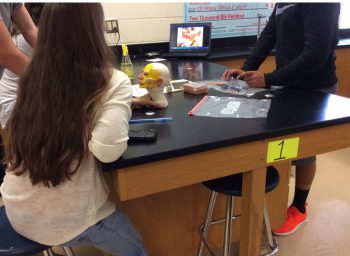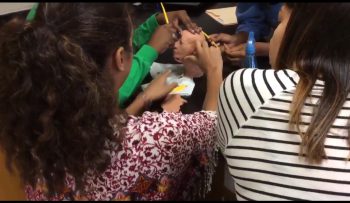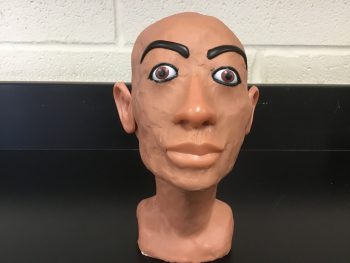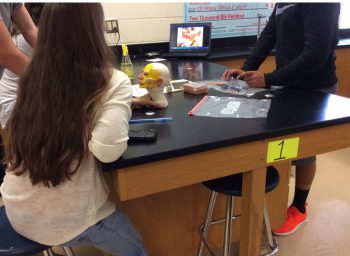 "Students were excited to be the first to try out something new," she said. "They enjoyed the experience and worked well as a team to produce a good product.  I was glad to see that the engagement in the activity was what I hoped it would be."