A translator, a law mentor, an avid reader, a creator of learning environments, and a provider of elementary literacy… true friends of Midway's public schools are fulfilling diverse needs of a robust school system.
Each year, the district recognizes voluntary gifts of individuals and companies who are steadfast in their commitment to our local community's schools and improving education for Midway students. Midway ISD is grateful for the dedicated, substantial donations of time, expertise and funding provided by the 2017 Friends of Midway honorees: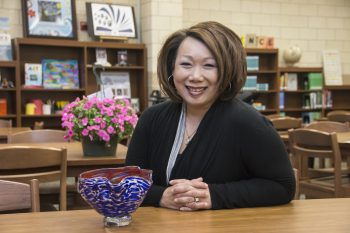 Thuy Vu
Thuy Vu was nominated by River Valley Intermediate School Teacher Judy Kainer and Principal Sarah Holland. Kainer says, "Mrs. Vu is a parent volunteer that has been a tremendous help to several of our Midway campuses. Mrs. Vu is the parent representative for the Language Proficiency Assessment Committee (LPAC) for our English Language Learners (ELLs) serving Speegleville Elementary, South Bosque Elementary, River Valley Intermediate, Woodgate Intermediate, Middle School, and the High School. Mrs. Vu also volunteers as a translator for our Vietnamese families that speaks little to no English at all. She has translated for South Bosque Elementary, Woodway Elementary, Woodgate Intermediate, and River Valley Intermediate. Her dedication to helping our English Language Learners (ELLs) has been an asset to our district. She has sat in numerous LPACs and ARDs in order to help our students, teachers and parents alike. She also volunteers her time at her son and her daughter's schools, not to mention cooking dinner from scratch daily! She is also an active member and volunteer for her church. Her dedication has touched many lives and spans to multiple Midway campuses."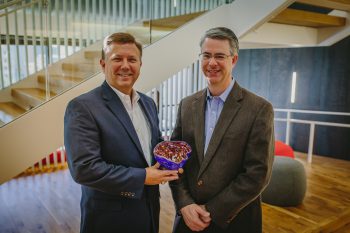 Huckabee Architects 
Suzi Pagel, Executive Director of the Midway Education Foundation, says, "Huckabee has donated to the Midway Education Foundation each year since the nonprofit organization held their first annual campaign in 2001. We appreciate the faithful support that Huckabee has provided us. To date, seven grants have been named in honor of Huckabee. These grants have provided district-wide programs such as Midway Reads as well as elementary and high school level grant."
In addition, Huckabee Architects have been instrumental in the successful launch of multiple recent large-scale, creative projects at Midway ISD. The Studio, a renovation to the 30-year old Midway Middle School library, has tremendously impacted the life of the campus. The Studio has also served as a best practice example to multiple other school districts interested in makerspaces and flexible arrangement spaces. Huckabee experts have also been crucial to the partnership between Baylor University, Spring Valley Elementary, Education Service Center Region 12, and Huckabee to study how the learning environment affects student engagement.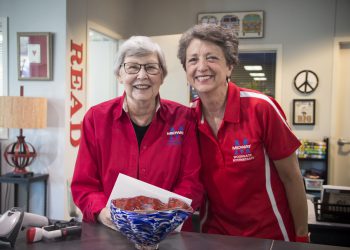 Barbara Belk
Barbara Belk was nominated by Woodgate Intermediate School Librarian Beth Hair, who says, "Barbara was with Midway for 32 years. She taught in a variety of areas but a great deal of time was reading. She has an amazing love for books. Students who have had her as a reading teacher still remember her unbelievable classroom library, her book talks and her genuine gift for helping students find just the right book to read! Barbara retired in 2012 from Woodgate Intermediate. Since that time, for the last five years, she has volunteered in the library twice a week. She comes EVERY Monday and Friday! She reads all the latest titles and series, recommends authors and books to the students and teachers and helps with ALL the duties of the school library. I can't even begin to count the hours she has spent with us. I would love to recognize her dedication, support and love for Midway and the many students she has touched!"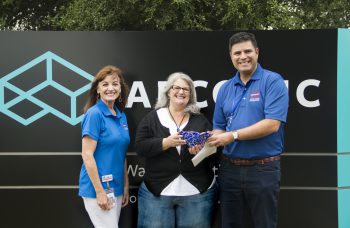 Arconic Fastening Systems and Rings
Midway's Education Foundation and MISD Curriculum Department together nominated Arconic Fastening Systems and Rings. Mrs. Pagel says, "Arconic has partnered with the Education Foundation to provide additional literacy and numeracy training to our primary level reading teachers. Thanks to their help over the past three years, we have been able to provide advanced literacy training for 20 teachers and will be providing advanced numeracy training for 20 additional teachers this coming summer. Reading scores for elementary level children have already shown improvement over the past two years, and the curriculum department credits the support of the training funded by Arconic Fastening Systems and Rings as a direct component of this success."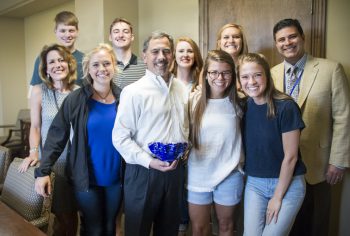 Dave Deaconson
Dave Deaconson was nominated by Midway High School Teacher Kim Landon, who says, "Dave has now been our attorney advisor for the four years that I have been a sponsor of Mock Trial, and he was the attorney advisor for previous MHS Mock Trial teams as well. Each year he donates 50-60 hours to the group, and comes to my classroom to hold practice each Tuesday and Thursday night as well as giving up several Sunday afternoons to advise the group. He has inspired at least half of our participants to consider the law profession as a career, and from his 2009 team, there are currently three attorneys and two more members in law school. He truly deserves this recognition, as the Mock Trial Team at MHS could not succeed without him."
Additionally, Dave Deaconson has served for the past eight years on the Education Foundation Board of Directors, serving as President in 2012. Even though both of his daughters have graduated, Dave continues to serve on the Education Foundation Board, working tirelessly to raise funds to provide programs and projects that benefit the students of Midway ISD.