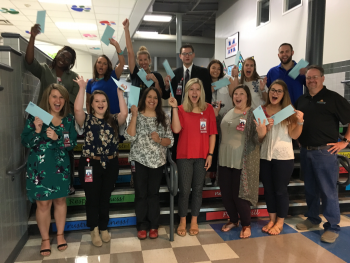 First year teachers to Midway ISD were welcomed warmly to Midway ISD during the August 6 new employee orientation training with a $150 reimbursement provided by the Midway ISD Education Foundation and John Houston Custom Homes.
Education Weekly says the average teacher spends $479 out of pocket annually to purchase classroom items. First year teachers may spend more than that in establishing their classrooms for the very first time. New employees to the district won't receive their first paycheck until mid-September, so new teachers may find themselves in the difficult position of trying to outfit a new classroom on a limited budget.
For twelve years, the Midway ISD Education Foundation has awarded a reimbursement for first year teachers. Thanks to the help of program sponsors John Houston Custom Homes, the reimbursement has been increased to $150 this year.
Representatives from John Houston Custom Homes were on hand to announce the special reimbursement during the morning's program. "Midway is located in a fast-growing community, and John Houston Homes is so happy to be involved in building new homes in this area. John Houston is a Midway graduate himself, and always asks about how things are going in Midway ISD. My own daughter teaches in this district, and she loves it. But I can tell you that I spent some money on her first classroom setup myself, so I know this money will come in handy for these first year teachers."
Monica Flemister, who will be teaching first grade at Castleman Creek Elementary said, "As a first year teacher right out of college, this donation means the world to me. It is such a blessing to have such generous support from the community. The money will be put towards making my 1st grade classroom a safe and welcoming space for the students."
Midway ISD Education Foundation generates and distributes funds to promote academic excellence in Midway schools. If you'd like to know more about the programs the Foundation funds, visit their webpage at http://www.midwayisd.org/foundation.