Fourth grade students at South Bosque Elementary School were given the opportunity to travel back in time and experience life in Paleo America on a field trip to the Bosque Museum in Clifton, TX.
"I want my students to experience the historic and prehistoric resources that the Bosque Museum has to offer, specifically the Horn Shelt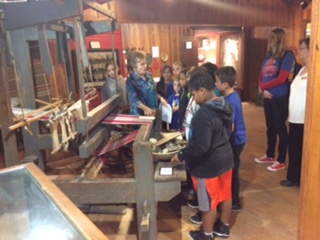 er Exhibit," said Ovata Bell, fourth grade teacher at South Bosque Elementary School.
As one of three Paleo American sites in the United States, the Horn Shelter is a 600 square foot exhibit that depicts a portion of the 11,200 year old Paleo American burial site. Students were able to see a replica of the shelter and how archaeologists excavated the Horn Shelter, including the tools that were used and the area of land on which the excavation took place.
Students were also able to examine artifacts from Native Americans and Norwegian settlers in Bosque County, a firearm collection that includes weaponry dating back to the 18th century and a pioneer log cabin built in 1866 which was the childhood home of Jacob Olson, founder of the Bosque Museum.
After returning to their classroom from the excursion, Ms. Bell asked her students to write about their favorite experiences at the Bosque Museum:
"My favorite part was the recreation of the Horn Shelter. It was interesting to learn that the man and girl died together (and were buried together) and they weren't even related! – Adam
"What I liked best at the Bosque Museum was the display of rifles and pistols. They were interesting because they were very old and used by people long ago." – Julian
"I liked the real cabin that was outside. A family of five people had lived in it. It was taken apart, brought to the museum and put back together." – Reagan
"I loved the Horn Shelter Exhibit because it had the exact details of how it looked long ago." – Emree
"The best part of the Bosque Museum was the sculpture of Sam's head (the man found at the Horn Shelter). It was recreated by someone from his actual skull and put in a glass case. It was also interesting because scientists think that Sam looked like the sculpture. – Qais
"This field trip provided the students the opportunity to experience exhibits about historically significant artifacts that, until now, they have only been able to read about in class," said Bell.
This field trip was funded by a grant from Midway ISD Education Foundation. Their mission is to grant classrooms with resources beyond the regular classroom budget to provide creative and innovative curriculum to enhance learning within Midway ISD. If you would like to learn more about or contribute to the Education Foundation, please visit www.midwayisd.org/foundation.