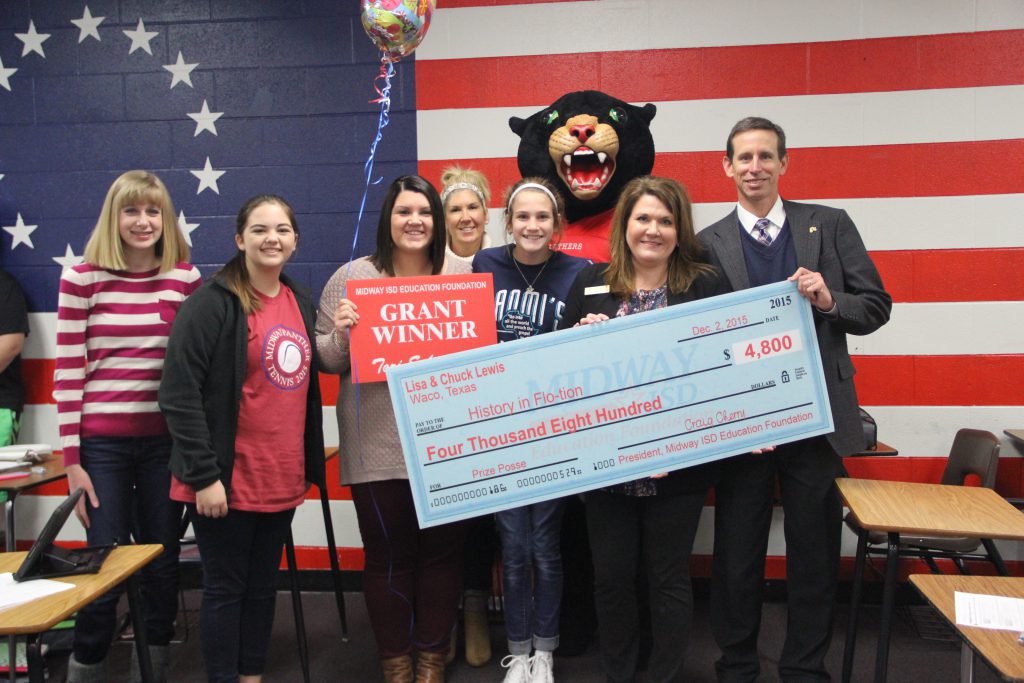 Volunteers are the backbone of any organization, and the Midway ISD Education Foundation has 33 outstanding community volunteers who serve on our Board of Directors. These volunteers come from all over the Waco area, and from a variety of different roles in the community. From parents, to teachers, to business owners, all serve on this board for the same reason, to strengthen the future of the community.
All of our members love awarding grants, but Amanda Holland has become particularly familiar with the different grants awarded thus far. As a volunteer, Amanda has served on a grant selection committee in the past.
"It's been incredible being able to help determine which projects, grants and initiatives should receive foundation support," Holland said. "One of my favorite grants awarded last year was History in Flo-tion at MMS.  Who wouldn't want to put American History to rap music?  My kids sure loved it!"
History in Flo-tion is a grant at Midway Middle School that uses rhythm and rhyming to teach important things to remember for the subject through a subscription to Flocabulary. With this subscription, all students and teachers at MMS have access to educational rap videos that cover all core subjects across multiple grade levels.
"Flocabulary takes difficult concepts and arranges them in a hip hop rap that is both catchy and educational," Tori Schoenfeld, Midway Middle School history teacher said. "The reactions we have seen from the students has been amazing!"
These Midway ISD Education Foundation board members believe this organization is worthy of their financial gift and just as importantly, their time. If you would like to contribute to the Education Foundation visit www.midwayisd.org/foundation or at http://bit.ly/Give2MEF.
"The Midway Education Foundation provides financial resources to enhance the quality of education for ALL MISD students," Holland said.