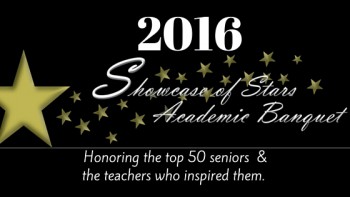 The Midway Independent School District is proud to announce this year's Showcase of Stars banquet honoring students who have excelled academically and the teachers who have inspired these exemplary students over the years. The academic banquet will be held on May 12th at First Baptist Church Woodway Sanctuary.
The keynote speaker at the banquet will be Brian Townley, an '88 MHS graduate and Twin Rivers resident. He started his career in the banking industry in 1987 while a student at Midway High School and is a leadership author and speaker. In 2014, Townley released a DVD based on the Chiseling a Leader program he produced with Emmy-award winning journalist Brandon Lee. RIPPLeFFECT: Leading from the Core is his newest book and will be given to every student honoree of the Showcase of Stars. Brian is also a Twin Rivers Resident.
Recently, Brian Townley was selected as the 2016 Alumnus of the Year. This award is a distinguished honor given to only one Midway graduate this year. The Alumnus of the Year is someone whose achievements, strengths of character and citizenship serve as models to inspire and challenge today's students.
For thirteen years, the Showcase of Stars Academic Banquet has recognized 50 top seniors of their class. These students are asked to choose one Midway ISD staff member who has helped pave the road to their success.
On Photo Reveal Day, staff members come to the MHS Library to find which student honored them. These teachers are aware that they have been chosen, but do not know which student selected them. The student may be one that a teacher had in elementary school or one they had last year. This day is always one of the most exciting days for the teacher because they realize the impact they have made on that student's education.
Showcase of Stars is a great opportunity for family, friends and community members to commemorate the achievements of these distinguished scholars, their parents and the teachers who made their success possible.
To learn more about sponsorship opportunities and for a complete list of students and educators being recognized, please visit our website at http://bit.ly/MEFShowcase.
By Kaitlyn Harp