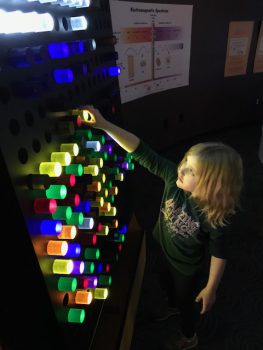 by Marshall Tompkins, MHS Student
The Mayborn Museum, located at 1300 S University Parks Dr hosted a "SpEd-tacular" night of fun for the special needs families in Midway ISD on January 24 of this year. The night of fun and learning was funded via a grant written for the entirety of the Special Education Department in order to offer a night of fun for students with disabilities and their families without the financial burden they might normally encounter.
This grant, named "SpEd-tacular Fun at the Mayborn Museum," was awarded last January by the Midway ISD Education Foundation. For students with special needs the Mayborn Museum is one of the few places in Waco which offers attractions that satisfy the sensory needs of most if not all of the students in the Special Education Department. The Museum offers two floors of sensory rich activities for students from all walks of life. The science room in the museum allows student to learn about sound and light as well as animals, water and bubbles. Who wouldn't love playing with a hula hoop and surrounding themselves in a giant bubble? In the Play Waco room students were also able to dress up as community figures such as police officers, firefighters and grocery clerks. Just down the hall from the Play Waco room is a miniature broadcast studio where students could create a live weather forecast, green screen and all. From the bright colors of the science rooms to the quirky noises in the communication rooms, these areas offer the perfect level of stimulation for students with special needs.
While this was a night filled with fun it was also a night of learning; upon arrival students were given a scavenger hunt to complete which led them through the building and encouraged them to engage with all the exhibits. Perhaps the most important part of the night was the inclusion offered to students. Students with special needs often struggle with communication skills and making friends. This night at the museum offered them the opportunity to be surrounded by their peers with similar needs to theirs, allowing the students to bond with one another and create a stronger sense of community with the Special Education Department. Just as importantly, this was a night that allowed the parents of special needs students to meet one another and form a community within themselves. "Many times parents of special needs students feel disconnected from the school population and this event will provide chances for families to mingle, socialize, and support one another," remarked one Midway parent in attendance.
This grant was provided as a Grant Express award through the Midway ISD Education Foundation. This particular grant was also special because it was named in honor of George & Kim Kazanas, the district's superintendent and his wife.
To learn more about the Education Foundation, visit www.midwayisd.org/foundation.