In early February, Huckabee Architects hosted a "design charrette" for Career & Technical Education teachers and students to give crucial input on the development of the new CTE wing at Midway High School.
Stand out concepts for the initial draft include:
One and a half stories connected on both floors of MHS near the library
A footprint on the left side of the building that reflects the angle of the fine arts wing
Three main groupings of collaborative programs
Flex spaces in all three groupings
An addition to the ag science building with new facilities for Vet Tech and Welding
A career center
Professional hospital feel in medical science grouping, plus an elevator large enough for a gurney to practice patient transport
A "dirty lab" with construction equipment for engineering
Glass walls to showcase student projects in the fashion design lab and robotics lab
Privacy-screened courtyards for outdoor classroom use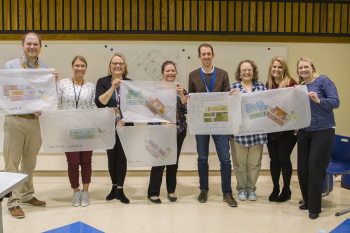 The design and regulatory phase will continue throughout the year 2020. The next steps include developing the draft into a correctly-sized floorplan, complete with storage, utility and restroom areas. Logistics such as A/C and technology connections will also take place in the floorplanning stage.
Contractors can expect to watch for the bidding process to begin in fall or winter 2020, with construction starting in spring 2021. The move in date is anticipated to be in summer 2022.
Related article: Waco Tribune-Herald February 8, 2020